Oscars Snub Women and Try to Fix it By Celebrating Other Minorities
Hang on for a minute...we're trying to find some more stories you might like.
For the second year in a row, the Oscars are without a host. Janelle Monáe started the show by singing "Won't You Be My Neighbor" From the nominated movie "A Beautiful Day in the Neighborhood." Billy Porter joined her, dressed as Elton John in a red velvet suit and floor-length gold embroidered cape – a nod to Rocketman. The two sang a parody of "I'm Still Standing" with lyrics like "Parasite, it's time to shine, it's time to come alive, 'cos the Oscars, it's so white." Monáe sarcastically quipped, "Tonight, we celebrate the women who directed phenomenal films," which in fact was the opposite and is notorious for being true with no women nominated for best director. The Oscars are basically the same thing every year, a bunch of men wearing black and white tuxedos winning awards women should have won.
Steve Martin and Chris Rock were the first to present an award and of course they took the opportunity to act as fake hosts. The two joked about Twitter and the lack of females and black people nominated. 
Brad Pitt took home the first award of the night for best supporting actor in a film. American Factory won for best documentary feature directed by Julia Reichert & Steven Bognar. Julia Reichert gave a shout out to her Ohio roots and cheered "Go Bucks!" in the middle of her acceptance speech. 
Brie Larson, Sigourney Weaver, and Gal Gadot joked about starting a fight club and how the loser gets to talk to journalists about what it's like to be a woman in Hollywood. Weaver also stated that "all women are superheroes." 
Some history was made during the Oscars: Brad Pitt won an award for acting, Laura Dern took home her first Oscar for her supporting role in "Marriage Story", Parasite made history by being the first Korean film to win an award and winning for best picture, the first non-English movie to win. Eimear Noone became the first female conductor at this award show in its 92-year history, and Taika Waititi became the first person of indigenous descent to win an Academy Award for writing. 
Idina Menzel sang the popular song from Frozen 2 "Into the Unknown", along with Anna Buturlina (voice of Elsa on the film's Russia release), Carmen Garcia Saenz (Latin America), Gisela (Spain), Kasia Łaska (Poland),​ Maria Lucia Heiberg Rosenberg (Denmark), Takako Matsu (Japan), Lisa Stokke (Norway), Willemijn Verkaik (Germany) and Gam Wichayanee (Thailand). All of the women sang in their native languages but came together as one powerful, unified chorus for the song's big finish. It was a performance that blew me away. On the other hand, Eminem's surprise performance of "Lose Yourself" shocked many celebrities. Yes, Eminem was on the 2020 Oscar Stage performing. Why? That's what everyone would like to know.  
The biggest awards of the night:
Actor in a leading role went to Joaquin Phoenix for his role in "Joker"
Actress in a leading role went to Renée Zellweger for her role in "Judy"
Best picture went to "Parasite"
Highlights: 
Parasite: 4
Original Screenplay
Best International Feature Film
Best Picture
Directing 
1917: 3
Sound mixing
Cinematography
Visual effects
Once Upon a Time…. In Hollywood: 2
Actor in a supporting role: Brad Pitt
Production Design
Joker: 2
Original score 
Actor in a leading role 
Ford vs. Ferrari: 2 
Sound editing
Film editing
Jojo Rabbit: 1
Adapted screenplay
Little Women: 1
Costume Design 
Marriage Story: 1
Best Actress in a Supporting Role: Laura Dern 
Judy: 1
Actress in a leading role
Toy Story 4: 1
Best Animated Film
Hair Love: 1
Best Animated Short Film
About the Writer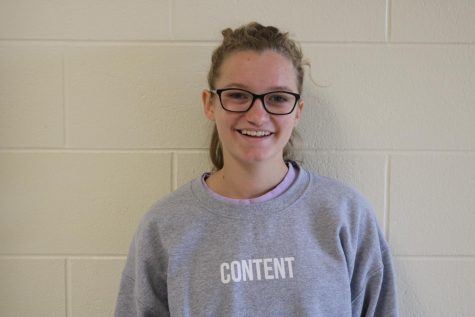 Kaitlyn Beauchamp, A&E Editor
Hi, I'm Kaitlyn Beauchamp. I'm 17, and a Senior at Kings High School. I'm part of the Kings Color Guard. I have been in Girl Scouts for 12 years...