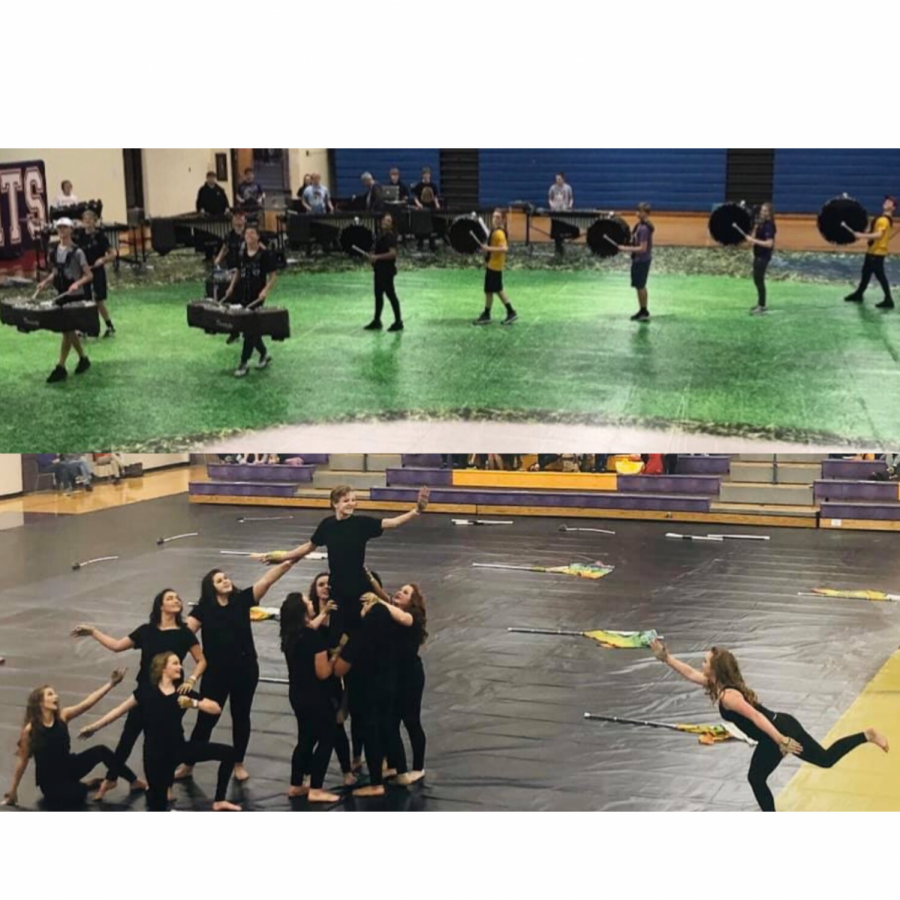 Their seasons may have just started, but the Winter Guard and Indoor Drumline are already hard at work towards musical and auxiliary success. Rehearsing four times a week for three hours at a time, the students in these activities are busy perfecting their shows, even though many argue that their hard work is often overlooked in comparison to other school sports. 
The Drumline's show this year, entitled "Par For the Course", is golf-themed. Musical selections include "From the Beach to the Water" by Mike Maegly, "Pressure" by Billy Joel, and "Mr. Sandman" by the Chordettes. 
"The (Indoor Drumline) season has been going really good so far," said sophomore vibraphone player Zach Johnson. "We took first place at the Miamisburg Invitational. There are a lot of talented musicians this year, so it's been a lot of fun." 
Meanwhile, the Winter Guard is taking a more spiritual approach to their 2020 season. Their show, "The Fool", takes on a metaphysical significance. According to tarot culture, "The Fool" card (also referred to as "The Jester"), symbolizes that one is on the verge of an unexpected and exciting new adventure, and in the process may require a blind leap of faith. This theme is fittingly supported by musical selections such as "Taking Chances" by David Stewart and Kara DioGuardi as well as "End of the World" by Matt Alber.
Although both groups work exceptionally hard and have received critical acclaim, participants claim that indoor musical sports often receive less credit and attention than their summer counterparts.
"I had no idea what Indoor Drumline was before I joined," said Mary Corcoran, a Freshman bass-drummer. "And I think that needs to end. Students put countless hours into a really cool performance. People should be more aware of what is going on behind the scenes." 
Zachary Johnston supports this assertion. 
"The drumline and winter guard are often forgotten about and not many people acknowledge or are even aware of what we do."

Regardless of accolades, however, students from Indoor Drumline and Winter Guard agree that they are having more fun than ever in their 2019-2020 seasons. 
Sole senior guard member Kaitlyn Beauchamp claims that although the Winter Guard had a "few bumps in the road", their season has nonetheless been fun and has been an opportunity for teamwork.
"My favorite part of the (Winter Guard) season has been the unique bond that this team has created," said Beauchamp. "We got second place at the Conner High School show despite not having perfect attendance, which was awesome. But for me, it's the random jokes and craziness that happen at every rehearsal that make the experience the most fun." 
Mary Corcoran shares a similar sentiment about Winter Drumline. 
"(Indoor) means the world to me. I've found a group of people that share the same interests as me, and I always get excited for rehearsals. Performances are a lot of fun, and I hope that this excitement never wears away."