Students take up new hobbies during extended stay at home measure.
As Ohio's stay at home measure stretches on, students continue to have extra time on their hands after they finish their remote learning assignments for the day. 
While some students spend the extra quality time with their siblings and their families, binge watch whatever they can find on Netflix, or catch up on sleep. Others have taken this time to pick up a new hobby.
Sophomore Lauren Deaton has practiced baking a bunch of paleo treats and finding desserts that don't have refined sugar in them. Deaton has also started bullet journaling, using it as a way to write down her thoughts, helping her keep her assignments together, and even doing a bible study. 
"I've been baking different versions of banana bread, lemon cake with greek yogurt icing, chocolate almond butter cups, and some carrot cake muffins. I really like bullet journaling because it's a fun and creative way to work through what I'm thinking.
Freshman Josh Hudgel has taken this time to learn a new language. Hudgel has been learning the basics of Japanese.
Right now he has the ability to read some and understand some but not truly speak it just yet.
"It takes time to learn a language. The main reason I want to learn Japanese is that later on after high school I plan to get my degree in History and education because I want to become a teacher, but I want to teach somewhere else besides the US so I decided that if I start learning now, by the time I graduate college, I will know enough to move out there and start my teaching career there," said Hudgel.
Sophomores Brennan Riddell and Noah Robinson have missed being able to play board games with their friends in person and have been finding a way to play them online. Both were shocked by how much classic games cost so they took the matter into their own hands and have been creating their own version of uno online. Calling it EINS, 
"Eins means one in German," Ridell said. "We were going to go with une (one in French) for a little bit, but we realized that was too close to the original name, so we went with German instead. I'm taking French. Noah takes German. Naturally, une and eins were the first names to come to mind." 
Riddell is the graphic designer for the game and has been creating the designs for the cards. Robinson has been working on programming the game and making sure everything runs smoothly. Their game is still in the works and they hope to put it up on Robinson's server once the game is complete. 
Junior Elizabeth Norgren has been painting with watercolor and uses it as a distraction to help her deal with her mental health. 
"Imagine you are in a situation where your heart starts beating really fast, and a million thoughts are running through your head and you can't control it or make it go away, then you sit down and start doing something you love and it completely goes away like it never happened. That's what my anxiety does to me, but I go to my quiet time area, light a candle, drink hot green tea, turn on worship music and just go for it. Oh my, I wish everyone could feel the way I do because it has changed my life, and helped me so much. I think painting chose me if I'm being honest," said Norgren.
Norgren has been painting for a little more than 2 years. "My favorite thing about painting is the end result and the freedom, most of the time I have no idea what I am going to paint or how it is going to turn out."
Norgren has been painting and selling bookmarks and has given all the proceeds to Joshua's Place, a local organization that has been providing food for families in need during the stay at home order.
"They all are individually painted to symbolize something special for the person to be reminded of if they are going through a hard time. They can look back at it and have some positivity," said Norgren.
Leave a Comment
About the Contributor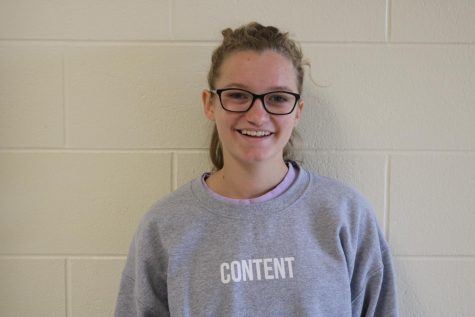 Kaitlyn Beauchamp, A&E Editor
Hi, I'm Kaitlyn Beauchamp. I'm 17, and a Senior at Kings High School. I'm part of the Kings Color Guard. I have been in Girl Scouts for 12 years...