COVID-19 forces theatres to go dark
The COVID-19 pandemic has caused Broadway to go dark for the longest time in its history. Governor Andrew Cuomo banned groups over 10 to stop the spread of the virus. This meant all plays and musicals on The Great White way were closed. The last time Broadway went dark was for 9/11 and only for 48 hours.
As quoted in Variety,  Charlotte St. Martin, president of The Broadway League said, "Our top priority has been and will continue to be the health and well-being of Broadway theatergoers and the thousands of people who work in the theatre industry every day, including actors, musicians, stagehands, ushers, and many other dedicated professionals."
With Broadway's lights out on the regular stages, many creators are providing content for their fans to watch at home to get through the blackout. Famed theatre composer Sir Andrew Llyod Weber has been making available on Youtube the professional recordings of shows and concerts he was a part of. Shows are posted every Friday on "The Shows Must Go On" Youtube Channel and are up for 48 hours. Other theatre companies are doing the same. The Globe in London has some of it's Shakespeare shows on rotation. The National Theatre, also in London, has posted professional records of some of its shows as well, allowing fans to enjoy theatre from home. Disney announced that Hamilton will be released on Disney+ on July 3rd.
"Broadway has the power to inspire, enrich and entertain, and together we are committed to making that vital spirit a reality," said St. Martin "Once our stages are lit again, we will welcome fans back with open arms so that they can continue to experience the joy, heart, and goodwill that our shows so passionately express every night."
Broadway is not the only place with darkened theatres. Local theatres across the country have been forced to cancel their shows due to COVID-19, including the high school production of "Singin' in The Rain."
"I was disappointed and sad that my sophomore musical would never be seen on stage," said Sophmore Amanda Woosley, "and sad that I couldn't direct my dinner theater group."
Woosley was not only in Singin' in The Rain, but also she was a student director for Kings Junior High Dinner Theater in which high school students direct junior high kids in short scenes performed for an audience. The audience gets a catered meal while they watch the scenes. The sudden absence of all of this has left theatre fans and performers like Woosley to find other sources for theatre.
"I have been looking into a brand new musical that will be released this summer called 'Starry', a musical about brothers Theo and Vincent Van Gogh," Woosley said.
However, in the middle of all of the cancellations and postponements, many people are using this time of social distancing to improve on new theatrical skills. Woosley is one of them.
"I am using this time to focus more on my vocal lessons and my singing, and learning how to play the piano," said Woosley.
Leave a Comment
About the Contributor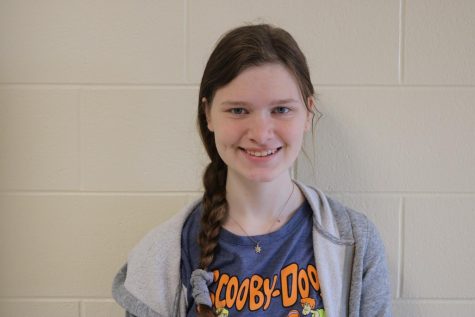 Sarah Dykuizen, Staff Writer
Sarah Dykhuizen is a junior and Arts and Entertainment staff writer. She loves acting and talking about her random passions. She has a lot of them and...