Division One player achieves dreams of continuing volleyball career through college
As she prepares to go to training teams at Sports Express, all she wants to do is wear the craziest patterned spandex that she can find. She has no idea how to play volleyball, but hey, she's only eight. This is just a fun activity; a place to meet new friends who you can just pepper the ball back and forth with. To eight-year-old her, it may not have been serious, but that little girl would eventually grow up to be a Division One athlete.
Now a senior, Jules Fink spends most of her time playing volleyball, both with the high school team and with Elevation Volleyball, ranked in the top 20 US clubs in 2019. For Fink, volleyball is more than an activity, it's her passion.
"It's something that you can't just work at by just going to practices, you have to be disciplined and work harder outside of practice. I do weightlifting and private lessons," Fink said. "When I play volleyball, it's like my happy place. It's where I have the most fun."
At age 13, that eight-year-old in colorful spandex turned into a dedicated club volleyball player. Coach Adam Goller said that it was obvious to everyone that Fink would grow into a great player from the start. She truly embraced the game at a high level and demonstrated a love of learning. When she was 16, Fink joined the 17th team. Despite having high expectations on her back, Fink approached the challenge with a "growth mindset".
"I remember [her] first game; it was difficult for her to make that change that quickly. But she did do it well. Lots of adversity, but very well," Goller said. "She is still hungry to keep growing, getting better, working hard. So she's grown a lot and had to overcome some difficult situations, but I believe she's totally better for now."
One of the hardest moments in Fink's volleyball career was at age 15. She had a habit of arching her back when she would approach and hit the ball, which resulted in her herniating a disc in her back and forcing her to be benched from her passion.
"I was out for a year and I couldn't play club. I was in physical therapy for seven months. I had to do spinal injection from stuff like that. That was not fun," Fink said.
Goller emphasized, however, that this injury did not negatively impact Fink's training and advancement.
"For having to sit a year out, it does not really show. You wouldn't know it," Goller said. "She is still one of the best middles in a very, very good club; one of the best middles in the entire country."
When you're one of the best players in the country, it's only inevitable to be sought after by Division One universities. For Fink, the recruiting process started when she was 13.
"[Starting young] is very scary because I had no idea what I wanted to do, where I wanted to go, close or far," Fink said.
At the beginning of the recruitment process, Fink was constantly sending and receiving emails and questionnaires. As she got older, she would have upwards of five phone calls a day with coaches from various universities. What helped Fink decide which schools she was interested in was the volleyball camps she attended last summer. At these camps, she got to play with the teams and go on a tour of the school. To Fink, being on campus is so important because it allowed her to get a sense of whether or not she would like to go to the school. 
In Fall 2019, Fink received a call from the coach at Utah Valley University in Orem, Utah. The coach offered her a scholarship and asked her to go on an official campus tour, which Fink said made her college decision clear.
"When I stepped on campus I kind of got the feeling of like, why would I not go here? I would make tons of pros and cons lists and it was just like, yeah, this is the right place for me," Fink said. "[I loved] how supportive the staff and the teammates are. The girls were all so welcoming and the campus is absolutely gorgeous. It's in the mountains, which I love. I think that next weekend I called him back and was like, I'm going there." 
At that point in time, Fink was a junior in high school and therefore could only be considered verbally committed. She had to wait until her senior year to sign the paperwork and officially commit to continuing her passion in college. Fink's passion, however, does not end on the court. She also puts hard work and dedication into supporting her teammates and the community. With the high school team, Fink has been a leader in raising money for organizations such as the Ronald McDonald House, National Alliance for Mental Illness, and the Down Syndrome Association of Cincinnati. 
The High School volleyball coach, Amanda Meadows, said that Fink is more than a great volleyball player.
"Jules is a great teammate and leader. She has served as an ideal role model for the younger players as not only someone to strive to play like but also to act like. She is an incredibly hard-working and supportive teammate," Meadows said. "She has a way of bringing out the best in her teammates."
Fink enjoys playing with her teammates, both at school and in the club.
"With club, it's so fun because I'm playing with a bunch of girls from different schools. Club is very competitive and it's really like you compete against some top teams. We travel all the time. We've been to places like Orlando, Kansas City, Atlanta, those are just a few," Fink said. "High school, it's also super fun. We have practices every single day in two to three games a week, so we're hanging out with the team every day. It's a good time. I love playing high school just because you get so close with your teammates and it's so fun because you go to school with those girls."
Fink will be graduating a semester early on December 18th. After spending the holidays with her family in Washington State, Fink will be moving into an apartment in Utah and begin attending classes at the university. Since the volleyball fall season was postponed until spring, Fink will also be practicing with the team, but will not be participating in games; doing so would use up her NCAA eligibility. 
Goller is excited for what the future holds for Fink.
"Jules is one of the better teammates I've ever been around, and she's got a great sense of humor," Goller said. "We are sad that she's choosing to leave us early for college but we are very, very, very happy for Jules. I think she's going to do well at the next level."
Leave a Comment
About the Contributor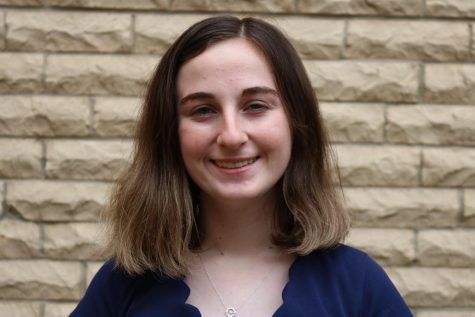 Abby MacNeil, Managing Editor
Abby is a senior and has been going to Kings since kindergarten. In the seventh grade, she got into theatre both at school and in the community, and it...