Students react to the Grammys
The 2021 Grammy Awards upset music enthusiasts over the choice of nominations and award winners.
The award show, which took place on March 12th, featured performances from Cardi B, Megan Thee Stallion, BTS, and Billie Eilish, among others. Big moments from the night included Harry Styles's first Grammy for Best Pop Solo Performance, and H.E.R. winning Song of the Year for "I Can't Breath" with Dernst Emile II and Tiara Thompson.
Bella Cantrall, a sophomore who enjoys listening to alternative rock, recognizes the importance of the Grammys for those in the music industry.
"It's such a big deal for some people and for certain artists, because that can help them to get a better reach and new listeners. But I also think it's a really cool thing to have such a huge award show like that with all different kinds of music artists," Cantrall said.
However, Cantrall believes that not all artists get the recognition they deserve, which is the reason she was disappointed with the selection for Best Record of the Year.
"It was one of the last awards of the night. I remember Billie Eilish won, and she was talking about how she thought that Megan Thee Stallion deserved it," Cantrall said. "I'm gonna have to agree with her on that, because as much as I love both of them as artists, Megan has had such a huge rise in listeners this year, and it's absolutely insane to see how much she has grown over the past couple of years."
Despite this disappointment, Cantrall's highlight of the show was Beyoncé winning her 28th Grammy award, setting the record for the most Grammys won by a female artist.
"It was really cool, especially because she's a woman of color. People of color don't tend to get the recognition they deserve," Cantrall said. "There's definitely, I feel like, a lot of bias. I feel like a little bit of racism, because it's mostly white artists winning these awards, even though there are people of color who may deserve those awards over those people, but they're getting them just because they're popular white artists."
Cantrall isn't alone in those thoughts. The Grammys have come under heat on social media for their mistreatment of artists of color. Kamola Miralieva, a junior who is a fan of the K-Pop group BTS, says that the Grammys' treatment of the group is "kind of" xenophobic.
"It seemed to me for at least a month or so before the Grammys even happened, a lot of advertising went towards them [BTS]. And it turned out the award they were considered for wasn't actually a part of the main show. Even with all the hype they were putting around them, and with all the success that they have been having, they weren't even acknowledged for it," Miralieva said. "I feel like that happened for a few other artists as well, especially for the other awards that were a pre-show sort of thing. They were just kind of announced and they weren't even shown on TV. I feel like that was also cheating them out of being able to have their spotlight."
Senior Andrew Theiss also believes that changes need to be made to who the Grammys choose to nominate. His biggest disappointment of the show was Taylor Swift winning Album of the Year for the third time.
"Her music: it's not that it's not good, it just doesn't do anything new. I feel like I've heard it before," Theiss said.
Theiss suggests the Grammys shift focus away from popular artists.
"Winning a Grammy: if you do that you're pretty much set. That pretty much means you have a career in music," Theiss said. "I think the Grammys would be better if they emphasized up and coming artists more than artists everyone already knows."
One new up and coming artist is rapper DaBaby, who received four nominations for songs such as "Rockstar" and "Bop." Despite his plethora of nominations, DaBaby did not take home a Grammy. This is also the first year that rapper Nas won a Grammy, after having been nominated 14 times since 1996.
Miralieva says this to be another issue with the award show.
"Nowadays with very big rappers in the industry, a lot of them are obviously not white, and I still feel like they do not get enough attention and credit for all the hit songs they produce. I definitely think there should be a larger variety of people of color who also get a chance to be considered for awards," Miralieva said.
Leave a Comment
About the Contributor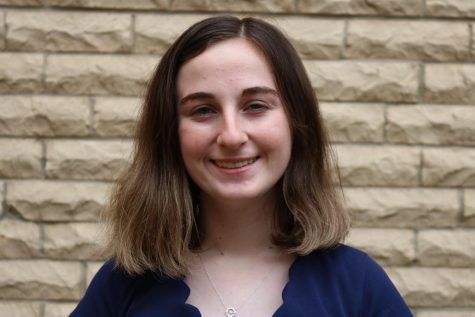 Abby MacNeil, Managing Editor
Abby is a senior and has been going to Kings since kindergarten. In the seventh grade, she got into theatre both at school and in the community, and it...