Designer propels her creativity a step further
Her ingenuity shines on her social media, mei_mei.d on Instagram. Scrolling past images of decadent desserts such as poison apple cookies and baked cherry crostatas makes my stomach growl. The time it takes to make such creations takes from sun up to sundown. One post that stands out from the rest isn't a dessert, but a costume. 
On October 29th seniors wore their Halloween costumes to class. At the end of the day, these students participated in a costume contest to show off their attire. When Mei Thomas, dressed as a turkish blue mermaid, walked across the gymnasium every student erupted in a loud cheer clearly signaling her costume was the best. 
"I wanted to win. It was the best f**king feeling ever!" Thomas said. 
She started designing her costume five months before Halloween when she went to the beach. Thomas drew inspiration from mermaids and seashells and the rest fell into place. 
"We were there for like 20 minutes while I was just picking up the right shells for the first time. I worked on just the top covering it in shells for a month." Thomas said. 
The morning of October 29th Thomas slipped into the costume that had been in the works since June. Then she worked from head to toe covering herself in bodypaint and shells. 
"It took me around four hours to get ready that morning. I was very sleep-deprived, which probably made me mess up on my chest. My mom helped me out a lot." Thomas said. 
Her creativity doesn't stop at costuming. 
Thomas also works at a local candy shop, Loveland Sweets as an alternative to working at a big corporation. 
 "A family friend was like, 'oh, there's this candy store you should start working there'. I hated Kings Island because it was boring and I don't like people," Thomas said. "I get to work with candy and coffee all day and make coffee drinks." 
Thomas' friends also can see her creative energy. Kirienne Hodges, a friend of Thomas, has known her since elementary school. 
"I remember that she would always talk about how if I ever came to her house and she's baking, she gets aggressive. She doesn't want people touching her baking stuff. I go up into her room, you know, it's obviously a typical teenage room. Very pretty, very cute, very little. There'd be like this nice little section to waste space for whatever fashion project she was working on. Like everything would be very arranged. There'd be papers next to it. And I just thought it was so funny to miss the natural chaos and I feel exudes from her when you get to know her." Hodges said. 
Knowing Thomas for eight years, Hodges has a positive opinion of her. Her strive for creative freedom can be seen in everything she does. 
"She's very chaotic in the best possible way. There's just like this incredible drive and like, power she has when she wants to create something. I honestly feel like that's what she was meant for." Hodges said. 
Leave a Comment
About the Contributor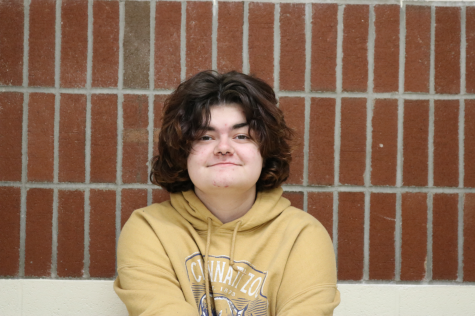 Lexi Hackney, Co-Editor in Chief
Lexi is a Senior and has been attending Kings since kindergarten. They joined the Knight times their sophomore year as a staff writer. In their opinion,...