Indoor track stars shine at state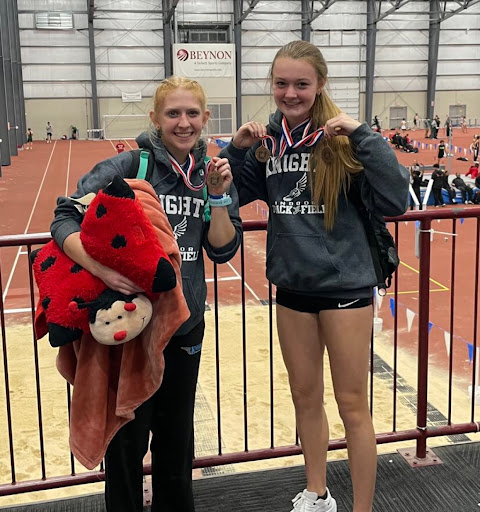 Emotions flooded over them when they found out they were headed to State. Walking behind the loud band through the hall in front of their classmates gave them a feeling of nervousness and excitement. These 2 athletes were pumped they were able to compete in the indoor track state championship.
Senior, Sara Doughman and Junior, Zoe Lenny headed off to State on Friday, March 4th with a long bus ride to the Spire indoor track facility.
"The bus ride is our time to get locked in," Lenny said.
They arrived at Spire and immediately set up camp. From there on out, all their focus is on their event.
"Visualizing yourself being successful before your event can really create the outcome you want," Doughman said.
Some athletes follow a specific routine before their game or race. Both Sara and Zoe have their own things they do before they compete.
"Before I jump, I put my earbuds in and make sure to stretch out. This allows me to get in the zone and jump the highest I can," Lenny said.
There are thirty-four events that take place in 1 track meet, so there is a lot of waiting for your event to be called.
"Track athletes can get very antsy while waiting for their event, I try my best to stay calm and collected so I don't mess up my game," Doughman said.
Zoe competed in two events, triple jump and high jump. Both jumps require skillful technique that is developed through repetitive training.
"I prepared by going through lots of different drills at practice trying to perfect my technique for the jumping events," Lenny said.
At last their events were called, the wait was over and it was time to show off their skill.
"I had a boost of confidence walking to the starting blocks. When the gun was shot I took off trying to get ahead. I stayed towards the top of the pack and ended up finishing in 8th place," Doughman said.
Zoe ended up placing 6th in the triple jump and 8th in the high jump.
"I was confident throughout the entirety of my jumps and was satisfied with my placement," Lenny said.
These phenomenal athletes proved to themselves and to the Kings community that they are worthy of being state competitors.
"We were proud of our performances and enjoyed our time at state together," Doughman said.
Leave a Comment
About the Contributor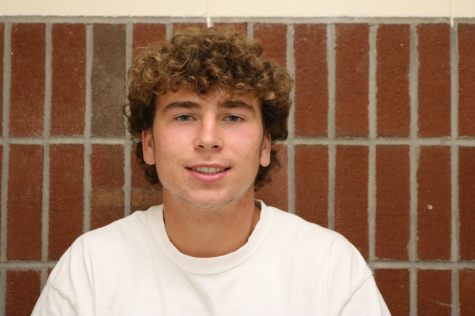 Jay Holubetz, Staff Writer
Jay is a junior and has been attending kings his whole school career. He joined journalism to try something new with his friends and pursue sports writing....