Eva Kremer is more than her brothers prison sentence
You might imagine prison being cold, bleak, and lonely. Gray walls meshing from corner to corner, bleeding together into a blur. The cement floor stinging the flesh of those who sit on it. Iron bars confining prisoners with devastating and overwhelming emotions. Here, you cannot escape the torment of everlasting punishment. 
Prison created an absence in Eva Kremer's life. Her brother, Vincent, has been there for over five years. Her relationship with him feels just out of reach, a constant yearning within her. 
"My brother's story is drugs – that's it. And it changed everything. My brother just got mixed up with the wrong people. That's all it was. In high school, he met the wrong people and made some stupid decisions," Kremer said.
Kremer's brother was sentenced to 10 years in prison under drug possession charges. This common mistake shifted Eva's family life entirely. At the age of eleven, she was separated from her brother – this event meant years of frustration within her home. 
"It's been really difficult for me and my family. We miss my brother everyday. It just feels like a constant absence for us all. I just saw my brother for the first time in two and a half years last month. He was about 19 when he went to jail. Still a kid. He did not have his life figured out," Kremer said.
Kremer acknowledges the injustice that he has faced. Since his incarceration, the Ohio Senate approved a reform bill that reduces felony charges for most low-level drug possession. However, this bill was not passed until after his trail, meaning it does not address prior felonies. 
"To me – it's crazy because my brother will be in jail totaling 13 years. He was just a stupid teenager. And when he gets out, he'll have to start all over. He was not even able to get his license before he was put into prison. So many people serve less time for murder charges. It's the justice system," Kremer said. 
A meaningful outcome is not absent in this story. Kremer has turned this turmoil into an impactful conclusion, by managing to maintain an optimistic mindset. She recalls her brother's kind nature and hopes to reflect that in the people she meets.
"My brother is the kindest soul. He would never hurt anyone. He made dumb choices, but he's not a criminal. If there is one lesson I have learned from all of this, it's to not judge people based on the experiences they've been through. And that goes for everyone around me, I really try not to judge," Kremer said.
Those around Kremer notice her ability to keep on smiling despite the circumstances. Holly, Kremers mother, gleams in admiration for her daughter's strength in regards to the situation. Holly describes Kremer as a deeply compassionate person, someone she can rely on in the wake of hurt and frustration. Holly explained to The Knight Times how the incarceration of her son had altered her family and affected her mentally.
"It is heartbreaking. My baby is locked in prison for 10 years. In the beginning, for a few years, I was in a really depressed state. I still feel a lot of hurt, but I have been able to grow. It has shown me how lucky I am to have Eva to fill those broken parts in my heart," Holly said.
It is not just Kremer's mother who sees her compassion. Natalie Clutter, Kremer's close friend, shared how Kremer's new-formed attitude impacts her life on a day-to-day basis. Clutter described Kremer as strong, smart, and beautiful. 
"Eva has always been the most understanding and gentle person. She always knows how to put a smile on your face, and knows the right things to say. Ever since third grade, we've been close. I've seen her go through the worst of the worst, and she's seen me at my worst. I've always appreciated how she never judges but instead tries to make me feel understood and heard. Growing up with her has been one of the best things I'll be able to look back on one day," Clutter said.
Kremer hopes members of the community will use her lessons of growth and learn how to approach people with more empathy. Kremer sometimes struggles with how teachers prior judgements make her feel ostracized within the classroom.
"I have to be kind. To me, he's just my brother who has screwed up in life, and I can't judge anyone else who has gone to prison for mistakes with drugs. I wish teachers wouldn't judge me as a student – I think they see me and think, 'Oh, that's Vincent's sister,' and they treat me differently. I think it is important for teachers to value each student," Kremer said.
Kremer's experience contains consistent themes of open-mindedness and non-judgment. Kremer hopes to see this mentality ripple throughout the community. "I will never judge people based on their past because the most important person in my life is always judged for his. These are not horrible people. I have learned to let people make mistakes. Let people learn from them," Kremer said.
Through the obstacles Kremer faces, she waits for the day she will reunite with her brother once again; this time, hopefully, out of prison. 
"I can't even begin to explain how good it feels to hug a loved one who's behind bars. He is six-foot-five and I am five-foot-two, so when I visited him, he broke my neck when I hugged him. It was the greatest hug I have had in a while," Kremer said.
Leave a Comment
About the Contributor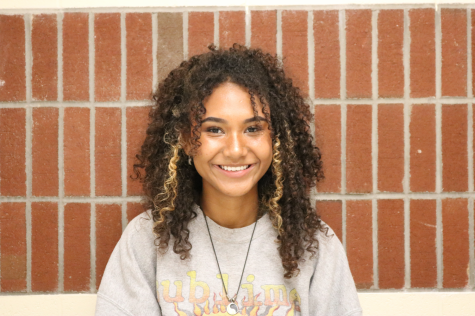 Sophia Jeng, Managing editor
Sophia is a senior and Managing Editor of the Knight Times. Her favorite part of journalism is the opportunity to connect with the community and her classmates....