Perpignan is more than data-collecting computer-science fanatic
What numbers and national activism have in common
On May 3, Nick Marchal got home from his AP test and realized he still needed to vote in the Ohio primaries. He had registered to vote recently but didn't know where to find any of the ballots or polling locations. He knew exactly where to find help.
Renee Perpignan would have the resources he needed. She responded quickly and within 30 seconds, Marchal had four links with everything he needed to know about what the ballots looked like and where to go vote.
Perpignan organized the voter registration table this year. She arranged it by herself and spent her lunch, and occasionally her AIRS time, running it. Her goal is to involve younger generations because she feels they are underrepresented. She helps people with voting and gives them the resources they need to get started.
Perpignan isn't stopping with voter registrations.  Someday, she wants to lobby Congress.
"Honestly, I think people are at the heart of my passion. My activism started my junior year. It was the summer after George Floyd and that really sparked something in me to change this country. There's a lot of stuff that needs to be fixed. If no one's going to do it, who else besides me, right?" Perpignan said.
As a freshman, Perpignan was told not to worry about politics because she couldn't even vote so her opinion didn't even matter. But she thinks everyone's opinion matters and it is never too early to get involved. She believes that caring for people drives her to make people heard.
"I feel like I have a lot of empathy for people and I feel for people even if I don't know them. Especially people I relate to. I feel like I can sometimes feel their pain and I get angry for them. And I think that's what kind of drives my activism," Perpignan said.
On May 25, 2020, George Floyd was arrested for buying cigarettes with a counterfeit $20 bill. The police held him in custody and had him pinned to the ground by the neck and didn't stop holding him there even when he repeatedly said he couldn't breathe, and he eventually went unconscious. They took him to the hospital where he was proclaimed dead soon after. This event sparked protests all over the United States.
"I was definitely shocked. And I don't know why because police brutality has been happening for years before this, but I think I was so shocked because it was filmed right there on camera, all nine or whatever minutes of it, and nothing was really being done about it right away. And so I was shocked. I think we all were [and] I think that's why the protests erupted all over the country and I felt so betrayed and I felt like this isn't right, and we need to do something about it," Perpignan said.
Perpignan knows prejudice and discrmination are hard to talk about and working to fix them can be tiring and depressing because they are heavy topics, but she feels that if she takes steps to work away from it, every day it will fulfill her.
"She has that stamina and that dedication to not just be the kind of person that has activism fatigue. There are people who try to be super active in politics and then society,  but eventually people just stop because it takes work and oftentimes you're going to get shut down. But Renee is the kind of person who never backs down and she's always going to keep going," Jackie Cunningham said.
While Perpignan sees social issues as intersectional because people can't support black rights without supporting LGBTQ or women's rights, she believes her area of focus is racial injustice. 
"It's definitely something that I relate to, being biracial. My dad is black and my mom is Asian. So I feel like I have both perspectives and I've seen both sides. And I feel like it's my responsibility, not as a black person but as a citizen, or like a person, to try to eradicate all forms of racism," Perpignan said.
Before Perpignan came to Kings, she was trying to find her identity and her place in society. She went to a school in Minneapolis that was more diverse than Kings and there were cliques of black kids and Asian kids, but she never really fit in with them. 
"I was kind of always the person undecided. I wasn't this, or I wasn't Asian enough, I wasn't black enough, whatever that means. So I was just trying to find where I fit in. I used to be asked 'Are you adopted?' like that kind of thing. It just really made it that much more difficult for me to find out who I truly am and what defines me," Perpignan said.
Perpignan wouldn't ask anyone to go through what she did but she is glad that she went through it because she feels she has been able to find herself more deeply than she would have if she hadn't endured all of that. She has a really good relationship with herself and a different type of confidence that only comes with being the only person of color in her class.
"I think a lot of [activism] for her is building opportunities for others. And I think because she has had opportunities herself, just through how hard her parents have worked and how much she's moved around and learned about the world and been able to be involved in so many things. I think that the opportunities that she has had, she wants to be able to make them more accessible to others, and like make it easier, especially for minorities and groups who are already discriminated against when it comes to so many opportunities. I definitely think even with the voter drive at school, just making it easier for people to have political efficacy and have their voice heard," Cunningham said.
In high school, Perpignan has been making a change by participating in groups like the minority teacher recruitment video, working on Google forms for the video, the voter drive, getting people registered to vote, and spreading awareness. She educates herself through lots of research and dedication so she can educate others on all the issues and why it happens or why it is important.
"I think doing that really helped me find out what I wanted to do in my life and find what my passions are. But, as far as protesting, and all of that goes, I think, I haven't really gotten there, just because of where I am in the country. It was possible but the protests were going on during COVID so I couldn't really go to any. I couldn't drive, so my parents wouldn't take me. [It's] not how I could have contributed to the cause at that time. But now, I would like to protest," Perpignan said.
Perpignan plans to combine her interests of making people heard and giving people data on these issues. She believes it will help the issues get resolved and create a more interconnected, accepting society.
"I love computer science and statistics and I really want to use that to fuel my passion for activism and advance social justice. I have some research I want to do, specifically on the topics of systemic racism in the education system, the criminal justice system, and healthcare system and I don't plan on becoming a politician, but I do want to use the data I find to come to conclusions and create policy that creates a more equitable, inclusive society," Perpignan said.
Leave a Comment
Donate to The Knight Times
Want to show your appreciation?
Consider donating to The Knight Times!
Your proceeds will go directly towards our newsroom so we can continue bringing you timely, truthful, and professional journalism.
About the Contributor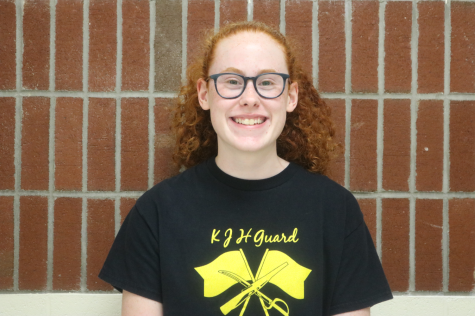 Paige Dwyer, Editor-In-Chief
Paige is a senior and Editor in Chief of the Knight Times. This is her second year in journalism and she joined journalism to improve her writing skills...