Beating old records; creating new expectations
The band sat down, cold and exhausted after their performance. Anxiety and fear pulsed through each person's body. The drum majors line up waiting for the announcement: third place.
After decades of performing against the same bands, the marching band made a breakthrough and created new expectations by traveling to Campbell County Kentucky, a trip they hadn't made since 1989. 
"I was both excited and nervous to go out of state. Especially because one of our directors, Mike Maegly, went to school at the high school where the competition was held. It was a special competition for him since he grew up there and had a lot of friends attending," Senior, Alana Subramaniam said. 
The week of their performance was different. The band had added a minute of new show material onto their already existing performance.
"It was odd as we competed against bands we have not seen in a few years and I was more anxious about the new show material. We had spent so much time on the new sections that our previously learned segments suffered from neglect," Maegly said.
Even through all of the anxiety-ridden feelings, it was a learning experience for the band to see how many marching bands existed outside of their hometown. 
"Going outside of Ohio for the competition is a cool experience. It's very exciting to be outside of the Cincinnati Metropolitan area. It's our comfort circle, when we're pushed out of it, we grow more as a band," Mira Butterfield said.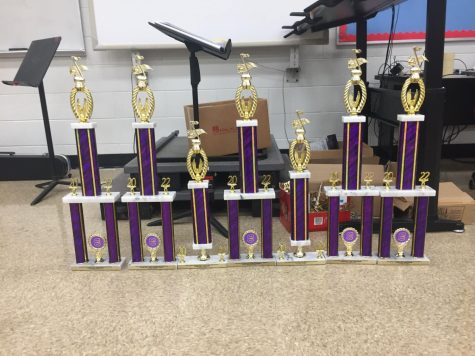 Going out of state presented the band a challenge that had not been done previously. Winning was no longer predictable because they did not know what to expect from their competition. 
"It's encouraging to think that we have the opportunity to compete against all of these amazing bands from all over the state and beyond. However, it also shows us that we are not automatically going to win any competition. We have to come together and work as one band to earn awards, not get them handed to us," Anna Reeder said.
The band works at full performance level every step of the way to ensure their best goes into the final. Throughout everything they remain one thing: a team.
"We teach the kids to do their best work possible. We can only control what Kings does. If another group is better, so be it," Maegly said.