Ticketmaster overloads leaving Swift's fans frustrated
On Nov. 15, Ticketmaster released the presale for Taylor Swift's "Eras Tour." The site was overloaded by a staggering number of bot attacks as well as fans who didn't have presale codes resulting in 3.5 billion total system requests. This caused several bugs on the site and long wait times for fans with presale codes.
"When I was getting in line for [the queue] I was at school. But then when I got home, I had to refresh it because it said redirecting for like three minutes, so that pushed me back so I had to do that all over again," junior, Lucie Kellum said.
Kellum, along with other students, asked her teachers if she could keep her phone out during class ahead of time because she knew the lines would be long. The queue being as backed up as it was made it difficult for people with other responsibilities or plans to get tickets.
"All of [Swift's] presales opened at the same time for every show. But Harry Styles did five shows, their presale opened up this time and then the next five shows opened at this time and stuff like that. So I think with Taylor, with their presale code trying to get in just overloaded it," junior, Logan Rankin said.
All while the website overloaded, Swift's fans suffered from bots purchasing multiple tickets and reselling them at prices double or even triple the face value. Swift tried preventing this by giving out early access codes for her fans to buy tickets before the bots got to them.
"It sucks because I didn't get tickets with presale and so I was just gonna get them like in the normal sale and they aren't doing a normal sale," Rankin said.
Ticketmaster canceled the public sale because of "extraordinarily high demands on ticketing systems and insufficient remaining ticket inventory to meet that demand," Ticketmaster wrote on their business website.
People were stressed about buying tickets, not knowing whether they were successful or not. And when people started reselling the tickets for a much higher price, Swift's fans' anguish increased.
"I feel sad for the people that couldn't get tickets but I'm also very angry that the people that could were buying like 12 and reselling them, because I don't think that's fair capitalizing off of people's need to see Taylor Swift," Kellum said.
Due to Swift's popularity, ticket prices were high, with floor tickets selling for up to $800 a ticket. On top of that, Ticketmaster charged an array of processing and service fees adding up to 78% of the original price.
"I don't think it's morally correct to charge that much. I mean, like I get like they're people so they need money. But with the VIP thing, I think it's okay to charge more for that obviously. But I just think the sheer amount of the floor tickets in general was a lot personally," Kellum said. 
With high demand, venues will try to supply as much as possible. However, due to limited space from stage set up and viewing, they can't fit the maximum capacity of the space being used. 
"They still will only sell a certain amount because like if it's a place like a basketball arena, and you can have all these seats in the center court, [but] you're still gonna block X amount of seats because you have to set up the stage and you have to be able to let fans see the artist and have the best experience possible," Alyssa Martin said. 
Martin is an operations management and marketing major with a minor in media production at CCM, graduated from Kings in 2022. She wants to work as a tour manager after college. She works closely with local bands to learn how all the processes work. 
"Ticketmaster could have prepared better,"  Martin said, "just making sure that the website will be okay. And then it wouldn't crash and the people wouldn't be upset about trying to grab tickets in the first place."
View Comments (1)
About the Contributor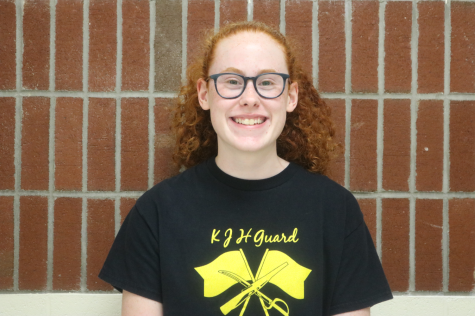 Paige Dwyer, Editor-In-Chief
Paige is a senior and Editor in Chief of the Knight Times. This is her second year in journalism and she joined journalism to improve her writing skills...