An exciting mystery set at the prestigious Gilden Academy, an aspiring journalist teaming up with an unlikely ally, the disappearance of the school's richest and most popular student, and a goose wearing a monocle…as a mascot?! The Green Light, a new play written by Kings alumni Alexandria Taylor and Kira Doebereiner, is ready for its World Premier at Kings High School next Thursday, November 16th. Its combination of humor, heart, and intrigue is something you won't want to miss. Such a unique opportunity only comes every once in a while, and it raises the question: how did it all begin?
"It kind of started as just an accident, really, just kind of a conversation," Peter Moore, Kings teacher and theatre director explained. "I saw Kira after a performance of [All I Really Need to Know I Learned in] Kindergarten last year and I knew she was a creative writing major at Miami University and that she wasn't doing creative writing stuff right now…so I said, 'Hey, if you're looking for a fun outlet for your creativity, you know, maybe write a play for high school… and if you write it, I'll direct it.'"
When recalling the moment, Kira Doebereiner said, "I laughed it off because I was like, 'there's no way I'm writing a play, absolutely not.'…and then I had gotten together with Alex and I told her about it and she's like, 'Kira, that's a great idea! You don't have to do it alone, let's write it together!'"
Kira and Alexandria both graduated from Kings in 2016, and have been friends since Junior High. 
"We did the shows together in high school, so we were onstage often, and we had the same creative writing class our senior year of high school…it's come full circle," Doebereiner said. 
They went their separate ways for college, Kira going to Miami University to get her BA in creative writing and Alexandria to Georgia State University where she got her BA in Film and Media. Throughout all this, they kept in touch, and then later reconnected when Alexandria moved back to Ohio.
The collaborative writing process was a positive experience for both. There was no clashing, as the two were connected by their friendship and lifelong passion for storytelling. It also went quickly. 
"Our brainstorming took about a month and then we started linearly writing the narrative together in person for six months," Alexandria Taylor said. "Kira and I would meet every Friday…and spend hours crafting the story together…Once we would draft a scene, we'd read the lines aloud to see how the dialogue sounded and would adjust and tweak from there. We'd periodically meet with Mr. Moore to get his feedback and update him on the writing process."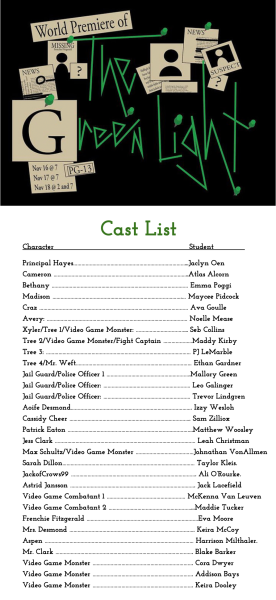 They made many memories, including one afternoon at Panera, when the two were brainstorming characters. Kira described how writers can get too attached to characters by naming them early on, and how she and Alexandria tried to avoid that. 
"We named all of our characters after bread. Aoife¹, our main character, was Baguette, we had Jess named Pancake, and Frenchie, our tertiary lead, was named French Toast. Unfortunately, we started calling her Frenchie during the process and that kind of stuck," Doebereiner said.
With every project comes its challenges. "The biggest challenge was trying to make cuts! We had so much material that was difficult at times to pare down for time's sake," said Taylor. 
As for directing, Moore said that he does "feel a lot more pressure to make everything as perfect as possible." It can be hard to perfectly recreate a vision. "This is Kira and Alex's creative baby, and I want to make sure that, you know, we bring it to life in the best way possible," Moore said.
There is little doubt that this will be a problem, though. Kings theatre productions have amazed in the past and it will be no different with this stellar cast. 
"Auditions were such an emotional process; characters that had lived in our imagination within the confines of our writing spaces were suddenly breathed to life by so many talented, prepared, and dedicated performers. Each member of the cast truly has blown our expectations out of the water. We cannot wait for the audience to see their hard work and creativity shine through The Green Light," Taylor said.
Once The Green Light has premiered on the Kings stage, Alexandria and Kira hope to have other schools perform it, as well as bring the story into other formats, including a book series and TV pilot.
Come see The Green Light at Kings High School next Thursday, Friday, and Saturday (Nov. 16-18). General admission is $10. Students, staff, and seniors are $8. You can buy tickets at the door or online here.
You can also stay updated on behind-the-scenes bonuses and more by following the show on Facebook, Instagram, and their official website.
————————————————–
¹ Pronounced 'eeᐧfuh'