Dodge, Duck, Donate: Second annual dodgeball tournament strikes out leukemia and lymphoma
March 18, 2023
Students and staff duked it out in a friendly St. Patrick's Day competition during the second annual National Honor Society fundraiser dodgeball tournament. Back by popular demand, the competition gave an exciting way to start off the weekend on Friday afternoon.  
"We created [the dodgeball tournament] because we felt like our juniors and seniors needed to have something to really look forward to that was catered to them," National Honor Society co-advisor Katlyn Gilbert said. "We wanted it to be a privilege." 
Teams pay an entry fee to play in the tournament; last year's proceeds went to the SQUIRES program, which organizes and funds teacher appreciation at Kings. This year all proceeds from the dodgeball tournament went to the Leukemia & Lymphoma Society (LLS).  
Juniors Grace Sims, Katie Gibson and Julia Burke decided to lead the fundraiser as a part of the LLS Student Visionaries of the Year program which works with local schools to fundraise for the organization.  
For Katie Gibson, whose aunt was recently diagnosed with terminal cancer, there is an even more personal reason to support this initiative.  
"The type of cancer she got is terminal, but doing it for her, we have a mission," Gibson said. "We have a 'why' now." 
Sims explained that the campaign, which runs from Feb. 1 through March 25,  has raised money for LLS through a multitude of  smaller fundraising activities. These have included such events as raffles, bake sales, partnerships with local restaurants, an event with jewelry store Kendra Scott, fundraisers at basketball games, and, of course, the dodgeball tournament. 
"We're trying to reach $30,000 dollars," Sims said about 4 weeks into the fundraiser. "I think we're right around $17,000 right now."
Open only to junior and senior students as well as staff, teams consisted of 9-10 players with an optional faculty player/coach. This year, 10 teams signed up to play. Tournament rounds narrowed the field down to just four teams after the preliminary round of matches that happened on March 3.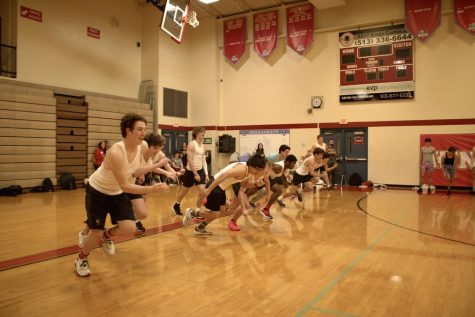 Teams were placed into one of two brackets, each consisting of five teams. Each team had the chance to go up against all four other teams in their bracket. The top two finishers from each bracket moved onto the championship. The four remaining teams played in the finale on March 17.
Additionally, the third place teams from both brackets went up against each other during the championship halftime for a chance to go against an all staff team. The students took the victory against the teachers with a score of 2-1. 
After 2 rounds of best-of-three classic dodgeball took out half the competition in the championship, only two teams remained.  The team Balls of Fury took on the defending champion team from last year, team Triple B.  
While Balls of Fury fought hard, Triple B held onto their title as dodgeball champions after a victory of 3-0 in a best-of-five matchup and took home the prize of a pizza party for their entire team.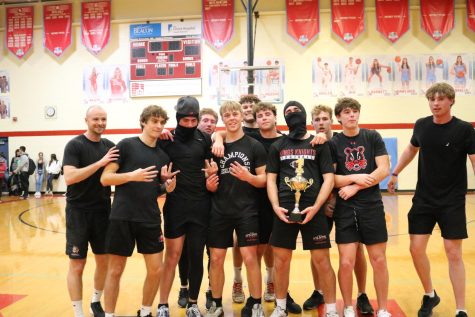 Over the past 2 years, the dodgeball tournament has been well received by students both as a friendly competition and as a way to help boost morale during the school year. 
"It's something fun to do during school, which I think is nice," Senior Sara Clark said. "Keeps us all going a little bit."  
The tournament not only provides an opportunity to connect with friends and classmates, but an opportunity to raise money for a good cause.
"It's a good chance for kids to get away from class and hang out with their classmates and peers in a fun environment," Junior Andrew Leist said.  
While only juniors and seniors were eligible to participate, the tournament gives current underclassmen something to look forward to in the years to come.
"I think it's going to be an event that is going to last for a long time," Gilbert said.