The Unlikely Heroes of Squad 12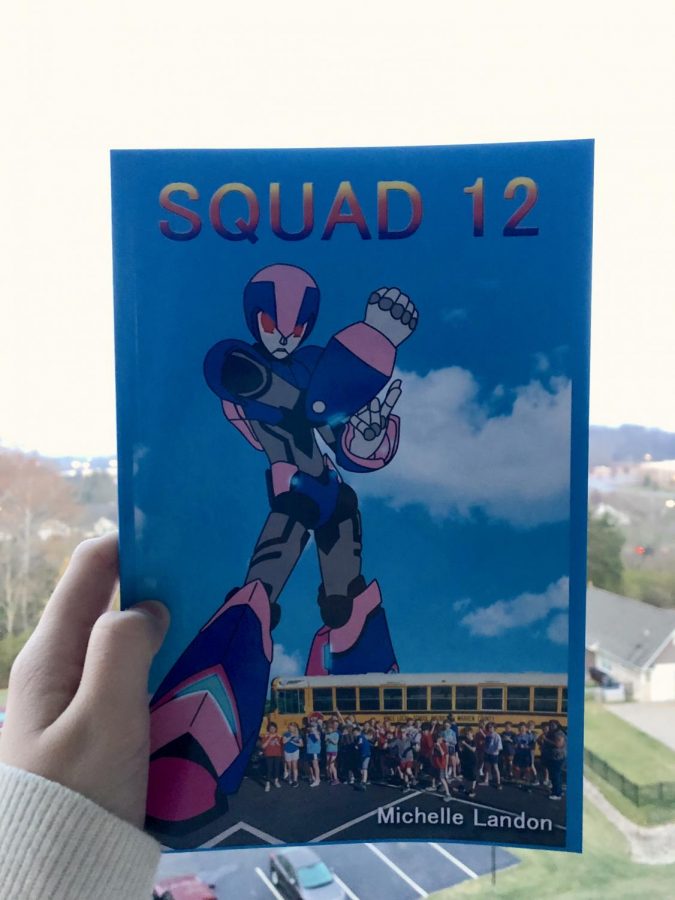 Abigail MacNeil, Section Editor
November 19, 2019
It's a normal day in Coast City: you get on the bus, go to school, come home, repeat. Nothing new, nothing out of the ordinary. That is, until mad scientist Dr. Agon decides to unleash his weapons in order to take over the world. The future seems doomed, but something even more unexpected happens: your bus driver asks you and your fellow classmates to help defeat Dr. Agon. 
Seems like a plot pulled from a dystopian book? That's because it is. "Squad 12" by Michelle Landon is a work of fiction, and the story rings true for Columbia Intermediate students who ride bus 12. Landon is their bus driver.
"I love driving the bus! I didn't realize how much fun it would be and how close I would become with my kids. What makes my job exciting for me is being able to do activities and challenges with my kids," Landon says.
It isn't only Landon who feels the connection, it also radiates among the students she drives. Annabelle Foster, a seventh-grader and a member of Squad 12, remembers Landon fondly. Her favorite memory is the time Landon brought breakfast sandwiches from McDonald's, not just for her, but also for the students who didn't have food to eat at home.
"I thought it was really nice of her to look out for the kids if they had breakfast or not," Foster says.
Bringing her kids breakfast was not a one time deal, but something Landon likes to do frequently. 
"Every year I like to give my kids treats for good grades, good behavior. Normally, they would get candy, a pizza party, ice cream, or a free movie from the Red Box," Landon says. "This time I wanted to do something different."
That's when Landon decided to put her love for the students she drives out into the world. The idea to write a book involving her kids began in a Digital Mastery class, where she learned how to write and publish a book. Originally she planned on writing a book about couponing, but what came out was more special. Through planning, drafting, and final revisions, Landon was able to produce a book that combined the two things she loves: Transformers and her kids. Although the process seems fairly routine for an author, Landon wants to make sure she gets everything right. Instead of reading over it herself, she has someone read the book out loud to her. This allows her to see what changes need to be made.
 "Once that's done, then I will go back and start adding all of my kids' names throughout the book, this is another challenge trying to make sure you have everyone," Landon says.
All of Landon's effort to include each and every one of her kids paid off.
"[She] made us all feel special for being in the book," Foster says. "[She] took her time and effort into this book and I appreciate that she added all of us in."
On top of including each of the students in the book, Landon also took the opportunity to spread a message about working together. At the climax of the book, when all hope seems lost, Miss Michelle, the bus driver in the book, rallies her students together by telling them, " 'Don't think about what's at stake here. Don't think about letting anyone down. Don't think you have failed, because you haven't.' " Landon hopes that they can carry this inspiring message with them the rest of their lives. 
"I hope to inspire my kids to start their legacy by becoming writers at an early age. To be hard workers, to love themselves and others. To work together and to know that I'm there when they need someone to talk to. And that they have my support," Landon says. "I want the kids to know that they do have someone that cares. And I hope that later in their lives that they would do the same thing for others."
Landon is planning on writing more books, including one for the teens she drives. 
The book retails on Amazon for $12.99. A portion of the proceeds from the book are donated to students who are unable to go on field trips for financial reasons.
"I've had several kids who could not go on certain trips because they could not afford to go. I do not like to see kids missing out on anything that can be fun and a learning experience for them," Landon says. "If it was up to me, no child would be left behind."