Student Perspective on Non-Traditional Learning
College Credit Plus (CCP), CareerQuest, and Honors Diplomas shape the progress students make in high school, including earning early college credits, planning for their desired career, and improving college and scholarship applications.
The deadline for CCP registration, Honors Diploma portfolios, and final schedule decisions is May 1st.
Seniors in CareerQuest focus on a career path for their post high school life. Guidance counselor Chris Griffin and guidance secretary Debby Henderson lead CareerQuest every month. They work with career professionals to provide seniors with options for what they want to do after high school.
"Once you kind of get settled on that, they help you in the right direction to apply to colleges, find the right college, or find the right job. They've set up interviews for people, they put in good words for people, so it's really helpful for both aspects," senior Sacorra Bauer said.
One professional vital to the CareerQuest process is Riley O'Grady, a High School Workforce Initiative Leader for Warren County. After students look into what careers interest them, O'Grady works individually with each student on the finer details.
"I sat on a zoom with Riley for over 30 minutes the other day of us just going through multiple things kind of based around the career that I wanted," Bauer said. "Because my thing is I want to work with kids, but it [the careers we looked over] wasn't just teaching, it was a bunch of stuff, I settled on teaching, but I think that even if you think you know what you want to do, or if you have no idea, it's really good."
The program grounds students' career interests at any level of confidence they have in their career interests.
"Even if you think you know what you want to do, it's really helpful." Bauer said. "Because I knew what I wanted to do, just some of it I didn't know how to go about, like applying to colleges, making sure I had my stuff done. It really helps if you're questioning even a little bit."
When students want more of a sign of dedication to their course of study, or general work ethic, an Honors Diploma presents just that to colleges once the student graduates. For freshmen like Jaclyn Oen, a Fine Arts Diploma supports her pursuit of a career in theater arts.
"I would like to get into London Academy of Dramatic Arts, which is difficult to get into," Oen said. "And I figured it would help me better [to] get a fine arts degree if I had a fine arts diploma."
As Oen explains, the diploma offers more possibilities for scholarships, which can be harder to obtain due to the need for portfolios, auditions, etc.
"Even though you only have to get five or six fine art credits, it's a lot more difficult to get into college with that kind of [degree]. I feel like it's a lot easier to go on like a sports scholarship," Oen said.
College Credit Plus (CCP) is another program that benefits students who are heading to higher education. Available online or on the college campus, the classes taken provide dual high school and college credit for students 9-12. The high school pays for these courses. 
Junior Therese Stouffer takes CCP classes through Sinclair Community College, but before every semester, she researches which universities would accept her transfer credits.
"It depends on what college you take CCP through and what college you plan on going to, because not all colleges accept CCP." Stouffer said. "So you should probably look into that, into what college you want to go to, because if they don't accept it, then you just wasted your time."
Like CareerQuest, CCP encourages students to find what they want to take in college, based on actual college material.
"Because if you take several different classes, and then realize one of those classes is not what you want, it's a good time to change it," Stouffer said.
Stouffer started CCP in the summer of sophomore year and has taken over 10 classes, each with about 3 college credit hours.
"The classes really aren't that long, compared to normal classes. I think it'll help you see how much faster college moves than high school. It's like, go go go," Stouffer said. "And, I mean, if you look at it, it's really not hard. You just have to apply yourself."
Students are expected to complete assignments on a weekly basis, while balancing a social life, high school classes, and/or work as well. Stouffer finds that CCP has taught her a great deal in time management.
"I would say it's improved. A lot. Like I have realized that I cannot procrastinate till the last second even though I'm doing that now. And now I have a lot of anxiety about it," Stouffer said. "I mean, for me really, it's really balancing when I get off work. I know I have this assignment due on Wednesday, and I need to start working on it because I can't just wait to the last second and do it, because I need to research and understand the topic before I write about it."
Leave a Comment
About the Contributor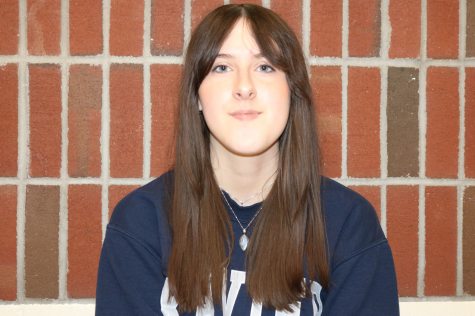 Alyssa Martin, Editor in Chief
As a senior and Co-Editor in Chief of The Knight Times, Alyssa enjoys assisting her fellow writers on their articles and interviewing; she loves to hear...