Thank you Tony for never sitting still
Does this man ever sit still? 
I'm on a wildgoose chase, desperately searching for the man of the hour, trying to set up an interview with him. I check every classroom, turn every corner, knock on each and every bathroom door, and still. Nothing. Even the office administrators and their fancy walkie-talkies were no match for Anthony Bach (Tony), the janitor. This man had gone off the grid. He was rouge. 
I had spent half of my day searching for Tony. My hunt for Kings' legendary janitor paralleled a conspiracy theorist's yearning to find Bigfoot. After three periods of searching, and only coming up with unreliable Tony sightings, I began to think Tony, too, was just a myth. I held out hope that he would turn up, on his own terms, when he was finished with his tasks, ready to be found.
"Hey kid! I must have the press hot on my tail," said Tony.
That was an understatement. After a tiring day of hunting, my search was over, and it soon became apparent that my best caffeinated-self could not keep up with Tony. The farewell cards covering his office were well deserved. Tony had earned his retirement after thirty years of being everywhere and nowhere all at once. 
"It's been a long road," said Tony. "I've seen six administrations come and go. I came over here after being at J.F. Burns and Columbia. I've been here for the last ten almost eleven years, and I can confidently say that the high school has been the craziest and most entertaining place to work. You kids keep me young and full of energy."
Tony is always able to make time for others, regardless of his busy schedule. Deputy John Downs considers Tony a dear friend, and is thankful for their fleeting moments shared between hard work.
"One thing everyone knows about Tony is that he's hard working. He's been here longer than me, and we've grown into good friends. He wants to do everything perfectly all of the time, and he's always running around doing something," Downs said. "Tony is just an awesome guy and easy to get along with. Those moments you have with him are great, but limited. Like I said, he's always running around working his tail off so I'm glad to catch him every once in a while."
Tony's reputation as a busy-body is apparent within his close group of coworkers, and made into a fun joke. 
"Me and the other janitors all goof around and call Tony 'Dug,' from the movie 'UP,'"  janitor Anthony Merry said. "This is because often times he's always running around like a mad-man, like he's saying 'SQUIRREL!'"
School staff and administrators appreciate Tony's work ethic, however, Tony's hard work doesn't stop at the high school doors. He applies this same effort to all areas of his life, including  his family. 
"My wife has several medical conditions and she just kind of needs me there now more than ever, so the timing was right and the opportunity was there, so it was probably the smart thing to do, but I sure will miss this place," Tony said. "She has a calcified heart, that's why they had to abort the open heart surgery. She has a liver condition and she's diabetic so there's a couple other things. Of course with all that going on she suffers from depression and she struggles currently with seizures. I try and help out whenever I can, but I know all of this is hard on her."
While the faculty and students will miss Tony, his wife is glad to have him home.
"I think she's looking forward to it now because there's a lot of  projects around the house that she wants me to do."
Regardless of Tony's infinite amount of responsibilities, he never fails to make time for the student body. His efforts to create a friendly environment for students have not gone unnoticed, even if he is hard to catch. 
"He's just such a nice guy who cares about his job and he always makes sure to give 100% and not let anything bother him or keep him from accomplishing his tasks. Regardless of how busy he was, he would always stop to make small talk with students," said Nathan Slupek, junior. "Even back when I was a freshman, he made sure to remember my name and stop to make conversation if I said hi. The man truly loved his job and the students. He had fun with everything he did."
After 31 years of non-stop moving throughout the district's buildings, retirement will be an adjustment. 
"The morning after I leave, when I wake up at like 7:15 in the morning I'll go, 'Oh my God I'm late!'" Tony said. "In the end I wouldn't change it for the world. It was worth every second."
Leave a Comment
About the Contributor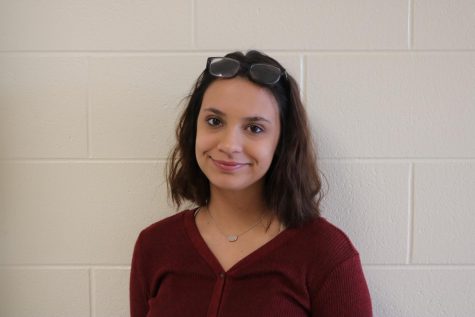 Kayla Estrada, Editor in Chief
Kayla Estrada is a senior and has been attending Kings since the first grade. This is her second year as Editor in Chief of the Knight Times and she intends...