Freshmen reflect on a strange first year
The student body doubles in size. The classes are no longer contained to one hallway. The organization of classrooms follows no rhyme or reason. The upperclassmen tower over everyone. The hallways are crowded. It's impossible to find a seat in the cafeteria. Students of all grade levels are in the same classroom. The variety of classes to choose from is larger. Students must manage the difference between CP, Honors, and AP classes. The next four years of life have to be figured out.
In a normal year, freshmen have to deal with an insurmountable amount of change as they transition from eighth grade to high school.
This year, throw in a pandemic.
By August, freshmen had to decide whether to spend their first year of high school in-person, remote, or virtual. 
Being in-person, however, didn't mean that everything was normal. In addition to wearing masks all day, students had to maintain six feet distance in all their classes, were not allowed to attend sporting events, and had to adapt to electronic hall passes. 
Freshman Madeline Hartke, who chose to learn in-person, says that she couldn't imagine high school without some of these regulations, such as the one-way hallways.
"I couldn't imagine [the hallways] without the arrows. The stairs: I don't think I could imagine them without the arrows. They're already jam-packed," Hartke said. "I feel like it kind of helps the flow of things."
Hartke says that her biggest struggle with adjusting to the high school has been the mask rule, which has limited her ability to get to know her teachers. 
"It's harder to hear them and know what they're saying sometimes if they're soft spoken," Hartke said.
MacKayla Heigl, another freshman who chose in-person learning, believes that masks have made it harder to get to know people in general.
"It's also just annoying when you see someone pull down their mask for the first time and you're just like 'that is not what I thought you looked like,'" Heigl said.
While Hartke believes they missed out on a large amount of their freshmen experience, such as the homecoming dance and pep rallies, she says that freshmen aren't the only ones having to adjust.
"Everyone's going through it. It's the new normal that we kind of have to get used to," Hartke said.
The freshmen experience hasn't been universal. While in-person students arrive at school by 7:15, freshman Molly Hering's days begin at 7:05 AM, just ten minutes before the beginning of first period. 
Hering chose the option to learn online for her first semester for safety reasons. Although following a synchronous Zoom schedule everyday was new for the district, Hering says that the end of last school year already gave her an idea for what remote learning was like. 
"I already kind of knew what online would be like since we had to do part [of] last year online, but [this year] was different because we had to do Zoom calls everyday and I didn't have a couple days to do all my work," Hering said. 
At the beginning of second semester, Hering decided to switch to in-person learning. Since she had never walked the halls as a high school student, Hering said she "didn't know what to do."
Despite not knowing what to expect with in-person learning, Hering says that online learning was harder because of the communication barrier.
"The teachers would end the call about half way through the class, so if I had any questions I would have to email them and they wouldn't respond. So I couldn't really get extra help, and I had to take pictures of all my work and upload it. It was harder," Hering said.
Freshman Aric Schauer knew learning in-person wasn't an option for him due to multiple of his family members being immunocompromised, so he chose the self-paced virtual learning over online Zoom learning for his mental health.
"I could have a flexible schedule and do it whenever I wanted," Schauer said.
Virtual learning, however, was a difficult adjustment.
"My day is literally just going on the computer and doing work for four to five hours until I'm done. It was definitely hard to adjust, especially in the first couple of months. I was just like oh, this is self paced so I don't really have to do it," Schauer said. "It was definitely a change, but it's a change I've been getting used to."
Schauer has found that keeping a planner has helped him stay organized. Over the weekend, he'll create a list of the assignments he needs to complete each day. If he doesn't complete an
assignment on the day it's due, he'll complete it first thing the next day. If he gets done early, he'll start on his assignments for the next day.
Schauer won't need that system for much longer. His family is fully vaccinated, and he'll be returning in-person in the fall. He is worried, however, about being behind on curriculum.
"My worst fear is that they're going to say 'oh you learned this last year' and I didn't," Schauer said. "There are some things I may not have been taught that I needed to be in order to understand something, or there's things I've been taught that I didn't need. So I think there's probably a learning gap between me and everyone else that I'm going to have to make up for by studying and teaching that to myself in order to grasp concepts. I'm gonna probably have to work a bit harder than I'm going to want to."
Overall, Schauer says his freshmen experience was "not that great."
"It's hard not being able to see my friends everyday, or just see people in general. And sometimes, for assignments I don't understand, there's not someone you can go to exactly besides contacting the Kings tutors and waiting a few days. I've taken lower grades than I've wanted to just because there was no other option than to contact an outside source," Schauer said. "Honestly, it's not that bad. I never got COVID. I never got quarantined, so at least I have that going for me."
About the Contributor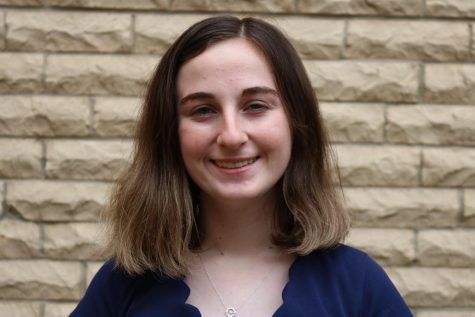 Abby MacNeil, Managing Editor
Abby is a senior and has been going to Kings since kindergarten. In the seventh grade, she got into theatre both at school and in the community, and it...