History is in the making for KFB
The undefeated Knights set out to do what has never been done in the history of the school; win a state championship. An already historic year will continue on as Winton Woods comes to the castle Friday night for the second round.
"State. That's the goal," junior Pablo Waimin said. 
Waimin is a fan favorite. The student section chants his name almost every week wanting to get him in the game.
"Hearing my name being yelled doesn't feel real at times. I usually get in the game when we're up by a lot, which happens almost every week," Waimin said. 
Every player in the program shows up to compete every day, with a championship mindset. Starters and backups alike, this mentality attributes to their success. 
"We know how difficult it will be to win it all, but we believe we're up to the challenge," junior defensive back Jimmy Kelly said. 
With an injury sidelining Kelly early in the season, the junior has just recently been cleared to play in time for playoffs, giving him a different perspective than most
"Being injured for a majority of the season was pretty frustrating, especially with how the season has gone so far. Not being able to be on the field with my teammates has been hard, but the special team we have has been fun to be a part of," Kelly said.
The ball-hawking safety returned to action just before the regular season ended, already contributing with an interception in the Knights' 50-6 win over Lima Senior in round one. 
"It felt good to get back out there and make some plays for my team again. Hopefully, I can help us win some games on the road to state," Kelly said. 
Wide receiver Elijah Jones scored a big touchdown in round one that led to the blowout win.
"We don't feel like there's a team out there that's better than us, and that has been evident so far in both how we've played, and the results we've had," Jones said.
The farthest the Knights have ever been in the playoffs was in 2015. That season ended in a loss to La Salle in the regional finals. 
"Winning state has been a dream of ours for a long time. Ever since I can remember I have wanted to play on the biggest stage possible, and that's it," Jones said.
A state championship would be a big deal for both the program and the school, as it has never been done before.
"If we can accomplish it, it would mean the world to us as a team, and for the community as a whole," said Jones. 
View Comments (2)
About the Contributor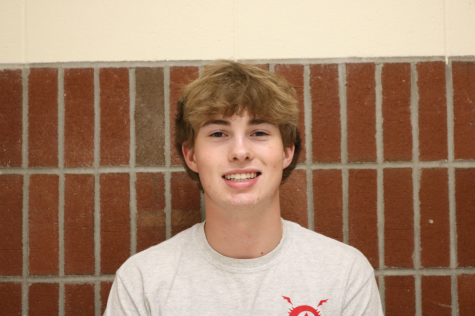 Ty Hacker, Staff Writer
Ty is a junior and a writer in the sports section for the Knight Times. His hobbies include working out and playing golf. He joined journalism with the...