Free community art night restarts
Carrie Cooke launches her first in-person Community Art Night of the year on Tuesday, November 30 after a difficult year of doing it virtually.
"I started the free community art nights the year before Covid. I wanted to create an event where families and friends could come together and spend time together having a good time. Of course, it had to be doing something involving the arts since that is my passion. I wanted families to bond and laugh while enjoying the arts. I held four events the first year," Cooke said.
Once the Coronavirus pandemic took over, however, Cooke was forced to pause her Community Art Nights. A pandemic couldn't stop her for long though, because she soon found a way to bring art to the community she loves, and this time, instead of funding the event out of her own pocket, the Kings Foundation gave her a grant to fund her project.
"I was so excited I received a grant from the Kings Foundation that helped fund the free art nights during Covid.  Unfortunately, instead of in-person events my daughter and I bagged up individual bags for each family to create the crafts at home. I missed talking to the families and seeing the joy on their faces, but I loved knowing that families were coming together to enjoy making the art projects that I put together for them," Cooke said.
This year Cooke gets to return to in-person events, and could not be happier. She plans to have multiple Free Community Arts Nights this year, but she also knows she'll need some help. Some girls from the Art and Kindness Club have volunteered their time to help Cooke prepare for and work at the events.
"I am so very thankful that I have had a group of great girls from the Art and Kindness Club that have come to work at each event. They have done an amazing job working with the kids, handing out supplies, putting together crafts, making samples, and helping with anything else that needs to be done. I have a bad habit of doing everything myself and I am so glad that these girls are there for me," Cooke said.
Cooke loves teaching art and loves helping her community. The Community Art Night is the perfect synthesis of these two things, and brings Cooke and those who she serves so much joy.  "I love every minute I spend with the kids and adults that come to the events.  The two hours that I get to spend with the people that come to the community art night helps remind me why I teach. I get to share what I love and there is nothing better than that," Cooke said.
Leave a Comment
About the Contributor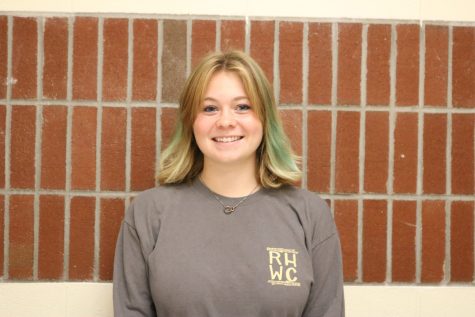 Marianne Erickson, Staff Writer
Marianne Erickson is a first-year journalist for the Knight Times. She has enjoyed the different environment of the class so far and is excited to continue...