New and old holiday traditions at the Kings elementary schools
Teachers at Kings Mills Elementary, South Lebanon Elementary, and J. F. Burns are widening their holiday celebrations to accommodate the growing diversity in the district.
KME and SLE hold an activity called reindeer games. Someone will announce on the intercom and ask the teachers a question. The caller to the office that calls at the right time and answers correctly gets a prize.
"[Belinda Atkins] would go on the announcements and say [something] like, 'How many lights were on the Griswold's Christmas tree in Christmas Vacation?' You need to be caller number ten and answer correctly to get the prize. So you have to call, call, call, and then it's fun because all the students try to answer too and are like 'Call, call, call!'" Rachel Manley, a teacher at SLE, said.
Traditionally, each elementary school would organize a shopping activity for the kids in each building, but KME realized the program's time had come to an end.
"It kind of has gone by the wayside, for a couple of reasons. One because we've got a decent population that doesn't celebrate Christmas. And during COVID we didn't have the volunteers coming in. But we also had a lot of kids that didn't have the money for it. I would have like maybe seven or eight kids that didn't bring money in and they're just like sitting in there while everybody else is running around," Christina Shepherd, a teacher at KME, said.
In anticipation for winter break, classrooms use arts, crafts, and games to mark each day.
"We got a bunch of different classrooms doing like a countdown thing where you're either gluing a cotton ball to a countdown or ripping off a chain to lots of decorations. We're trying really hard to be conscious of the fact that we have such a large variety of cultures now," Shepherd said.
These festive activities take different forms to accommodate everyone.
"Every class has some kind of winter activities, whether it's making a craft snowman, or decorating a sugar cookie to look like a snowball, something like that," Jennifer Maegly, a teacher at J. F. Burns, said.
Before COVID teachers would all get together and do one big activity, within a grade level, where the kids would go from classroom to classroom to learn about different traditions and holidays around the world. Now, to keep contact tracing simple, they do small separate activities in their classes.
We just read the seven spools of thread and we learned all about Kwanzaa, and we got to weave like the seven brothers do in the book," Manley said.
Shepherd keeps a shy elf on the shelf in her classroom named Christy. She likes to exchange letters with the kids in the classroom. 
"The kids get excited because she leaves different kids letters each day and she leaves the class a question up on the board that they have to come by and mark a tally mark. Which is going to because we're going to next our next math unit will be data. And so there's like already collecting data. She always wants to know if they want to stir their hot chocolate with a candy cane, so she just brings him a candy cane. And I have students from previous years that come back in to see her," Shepherd said.
All three schools also celebrate with an end-of-semester party on December 17. In the past, all the classes did it at the end of the day but now they do a party in a box. Room helpers will put together all the supplies and drop them off at the classroom so the teacher can do it whenever they want.
"We used to have so many parents [come] in. It was like you'd be in your room and you're like I have 20 kids and there's 36 parents here. How did that happen? So we as teachers, we kind of like the party in the box thing because we don't have to organize any of it but we also don't have all of those people in there with all that chaos going on," Shepherd said.
In addition to a party, J.F. Burns hosts a Jingle Bell Rock dance. A former teacher started it and they continued the tradition in memory of them.
 "On the last day of school again before break, the whole school, teachers included, go out into the hallway, and they play the song over the loudspeakers and we do the Jingle Bell Rock dance," Maegly said.
Leave a Comment
About the Contributor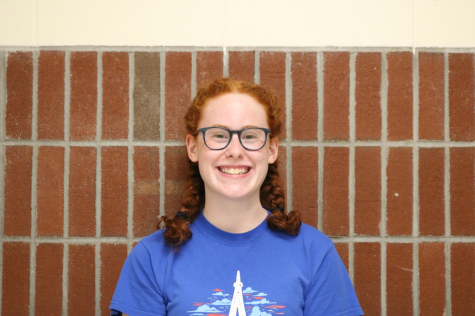 Paige Dwyer, Staff Writer
Paige is a junior and has only been at Kings since her Freshman year. Before that, she was homeschooled along with her six younger siblings by her dad....