Overlooked and underappreciated: The rap career of Machine Gun Kelly
While attending Shaker Heights High School in Cleveland, Ohio, MGK got his name for his fast-paced rapping style. In 2009 at the age of 19, MGK competed at an amateur night at the Apollo Theater in Harlem, New York, becoming the first white rapper to ever win back-to-back victories at the Apollo Theater. He won the Breaking Woodie award in 2012 and the Woodie of the Year award in 2013 at the MTV Woodies. The MTV Woodies is an annual music show with awards voted on by the fans.
"Critics don't mean anything. The fact that Machine Gun Kelly isn't critically acclaimed and we just go against the grain, this just proves everything that I've been preaching since day one to be true," said MGK in an interview with Buzzworthy in 2012. "So to all the fans out there who took the time to vote over and over again 'til your fingers got carpal tunnel, thank you! Thank you, dude. You have made my year. Lace-up!"
From slowly gaining a fanbase in the streets of Cleveland to performing all across the world, MGK's rap career propelled him into fame.
MGK signed to Bad Boy Records, a division of Sony-owned by rapper Puff Daddy in late 2011. Four studio albums, two EP's, and eight mixtapes later, Machine Gun Kelly is still severely overlooked and underappreciated by the rap industry. He brought a punk rock energy to live shows that rappers didn't have. He threw water at the crowd before any other rappers were, he was jumping in the crowds, he hung upside down from the ceiling while performing. His energy was unmatched until other artists like Travis Scott, Lil Uzi Vert, and Playboi Carti started incorporating this kind of energy into their live shows.
Lyrically, MGK stays at the top of his game covering issues from substance abuse to family issues . Songs like Story of the Stairs and A Little More from his second studio album General Admission are perfect examples of his lyrical prowess. 
Story of the Stairs focuses on his mother that left him when he was 9 years old. He tells a story of finally getting the chance to speak to his mother and being scared to open the door. Throughout the song he describes what he would say and how his life progressed after she left. His frustration and anger is evident in his lyrics. 
And in my head are questions I want to ask like, "Where the f*ck did you go?" 
Why did you turn my birthdays to the worst days every year that you didn't show?
Story of the Stairs has a slower beat that makes me feel like sitting outside, staring at the sky, and listening to this story. Even though it is a sad story it's his story and it's a story that others can connect to. It creates a connection between MGK and anyone that needs to know that they are not alone and that others have gone through what they have.
A Little More focuses on the flaws of our world and the people in it. In his lyrics he talks about a girl that commits suicide because she got bullied by peers in school and how everyone would rather gossip and look at what celebrites are doing instead of focusing on the problem. 
A girl committed suicide after she was bullied at school
Cause some dudes told her she wasn't cool
But you'd rather gossip about a famous person breaking the rules
The music video for A Little More really embodies these lyrics with a scene where a girl bleeds out in the street, and MGK screams for help, but everyone in the neighborhood just stands around her with their phones out recording. This song grabs my attention through a catchy beat and hook, but when you listen to the verses, it's a very serious topic. It brings hope that we can be better as a society, that we might be able to show more kindness to others and make this world a better place.
In 2018, MGK had one of the biggest beefs in rap history when he released Rap Devil, a diss track targeting Eminem. To clarify, beef in rap terminology is when two or more rappers have a feud and a diss is a verbal attack directed at another artist through the lyrics of a song. Even though MGK was responding to Eminem's diss towards himself on Eminem's song Not Alike, the world seemingly split into two sides when he released Rap Devil. Half the world respected him for dissing Eminem, the other half hated him for even thinking he could release a diss track on him.
He talks about the hate he received from the world after dissing Eminem in his song Floor 13 off of his 4th studio album Hotel Diablo.
I just can't wait until the day I run into you physically
For everything that I went through mentally
When it felt like everybody in the world was against me
When all the critics and every article trying to offend me
My daughter slapped a kid for talking 'bout me in elementary
In recent years he switched directions musically and released pop-punk music followed by a rap song every now and then. Most people only listen to his newest pop-punk music and completely look over his rap music, which means they miss an entire part of who he is as an artist. To get the best feel for his rap music, there are 4 projects you should listen to: his 2nd studio album General Admission, 4th studio album Hotel Diablo, and two of his mixtapes Black Flag and F*ck It. 
His music may not be for everyone but giving him credit for his hard work and determination towards his music is still important. So give him a listen and decide if he deserves more recognition for his rap career.
Leave a Comment
Donate to The Knight Times
Want to show your appreciation?
Consider donating to The Knight Times!
Your proceeds will go directly towards our newsroom so we can continue bringing you timely, truthful, and professional journalism.
About the Contributor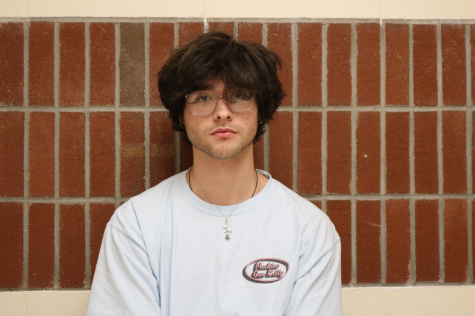 Jake Murrel, Staff Writer
Jake Murrel is a senior and a writer for the Art and Entertainment section of The Knight Times. He enjoys interviewing and improving his writing skills....