New Mercy Health-Kings Mills Hospital builds opportunities for the community
Loud banging noises echo across the once empty field. Machines hull and beep, carrying and pushing what the workers cannot. The workers walk around in neon green, orange, and yellow on the wooden platform that might become the second floor of the new Mercy Hospital on Kings Mills Road.
Looking forward to the new hospital, kings students see opportunities for learning and access to healthcare close by. Construction is scheduled to end in the fall of 2023, the start of senior year for the class of 2024. One concern with the new construction is increased traffic.
Both principal Doug Leist and Engineering teacher Jason Shields told the Knighttimes that trafic won't cause a large problem with the new hospital. It will bring in new traffic but there will be several entrances to the hospital, three from Columbia Road, two from Kings Island Drive, and one from Kings Mills Road, so it won't impact the traffic the school already deals with.
"We need to do some things though, as a school district to solve the parking issues that we have and the traffic flow issues that we have. That's something internally that we've got to look at. That's always going to be a problem, regardless of what anybody else does," Leist said.
The district hopes to build a new relationship with the Mercy Health-Kings Mills Hospital in the same way they have a relationship with Beacon Orthopedics. Beacon provides the school with a weight room and two athletic trainers. 
"Are there ways that we can get our [BioMed, Anatomy and Physiology] students to come and have a chance to go over there and see surgeries as they happen? Is there a way that we can go over and bring our students over there to see some things take place in the medical field?" Leist said.
Shields's Engineering classes hope to partner with the hospital for future projects, similar to when they built the senior picnic area for the school. The class currently benefits from having construction so close to the school. Workers from the hospital come in every month to talk to the students about how everything works.
"They're giving [the class] a general overview of the entire hospital project, but they're also giving the kids some exposure to project management techniques, looking at the different details of how to complete this large-scale project, and it's been really good because I have kids that are going into different fields of engineering, like civil, mechanical, electrical, [and] chemical. They're learning a lot about project management and how to think about creating this whole structure for managing this huge hospital," Shields said.
When the construction workers come in, they bring special projects or activities for the students to do. They help simulate real-world decisions the students might make in their future with engineering.
"Each decision helped the kids kind of get a feel for the complexity of this huge project management. And no matter what field of engineering my students are going to, that project management is going to really help them in their future career," Shields said.
Engineering III plans to take a trip to the hospital next spring to look around at the process of construction of the four-story hospital.
"Once they get the walls up, and we could walk around inside, [we will] be able to see everything like retention ponds or where they store all the pumps, oxygen tanks, fire retention systems. We've thought through all that [and it] will be really fun to see it when we get over there because it'll give them a different perspective," Shields said.
Before Danis started building the hospital, the field was just grass. Once they finish the landscaping, it will include trees and decorative grasses. Ed Gomes, the teacher in charge of the Environmental Club, started a new project this year called Tree Plenish. The goal of Tree Plenish is to plant enough trees to replace all the paper used at the high school. Gomes says that the hospital might not want to buy trees from their project even though they are cheap and good for the environment.
"I know that the trees that we're using are native trees, which means that they're going to get big, and they're going to lose their leaves in the fall. So I don't know if that's the kind of tree that they want for their landscaping. I don't know that they want to pay workers to clean all those leaves. The trees would be cheap, and they would look beautiful. Again, I don't know what their plans are. So it would be really nice if they did," Gomes said.
GBBN Architects designed the hospital and look forward to the architecture students' proposals for a future medical center. They don't know what sort of center they will build. They just know that it will be a specialized separate building from the hospital.
"[Students] are going to help design it. They will give [GBBN] proposals or in perspective drawings and digital models, just proposed ideas before they actually start building anything. Now whether they use our students' ideas that's still up in the air, but they do want the students to pitch some ideas to them," Angela Guilfoyle said.
Art students may have an opportunity to incorporate their artwork into the building decor.
"That's still something that will be discussed in the later phases. Some high school students might have some artwork in there," Guilfoyle said.
When the hospital is finished there are going to be sidewalks as a safer way to walk over to the local restaurants.
"Big advantage of [the hospital] is going to be a safe way to travel and walk through and that's going to be great. [The] disadvantage right now is there's a lot of construction. [But] there are actually going to be ways that you can walk through and go to pull it. You can go over to McDonald's a lot safer than going through, you know, knee-high deep of mud," Doug Leist said.
Before the land was bought it was empty for a long period of time. Before that, the Football Hall of Fame was there. Now having a hospital there will provide more opportunities for the community.
"I think it's a great opportunity for having more access to health care for our students and our kids in our community. That's a positive. That's a good thing. Construction is a nuisance. If you remodel your bedroom at home or bathroom at home or kitchen at home it's going to be a short-term nuisance, right? But you'll end up having long-term gains because of the work that you did," Leist said.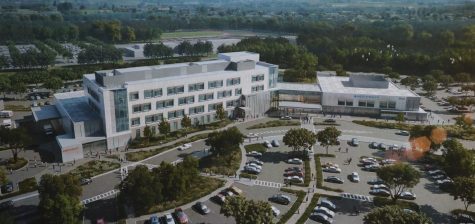 View Comments (1)
About the Contributor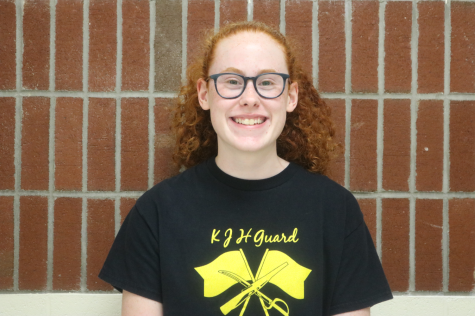 Paige Dwyer, Editor-In-Chief
Paige is a senior and Editor in Chief of the Knight Times. This is her second year in journalism and she joined journalism to improve her writing skills...