Mia overcomes her softball fears
In her second year of playing softball for Kings, Mia McFaline overcame her fear of leaving her Virginia teammates behind and not being good enough for a new team. 
"I started playing when I was five all the way up until I moved here and then I took a two-year break. Now I'm back playing," McFaline said.
McFaline took a two-year break from softball when she moved to Ohio and worried that softball would be different than it was in Virginia. 
"I'm originally from California, which if you know anything about California, it's one of the best states to play softball, but I moved here from Virginia," McFaline said. 
McFaline moved to Kings in seventh grade and didn't play in seventh or eighth grade because she believed she wasn't good enough to play for the Kings softball team.
"To be honest, it was out of fear. I was scared of continuing the sport I love in somewhere totally new," McFaline said. 
A new school year started and McFaline is perpetuating fear. 
"I didn't feel very welcomed at the beginning of my freshman year. I felt very cliquey," McFaline said.
She had lots of support from her family, even the coaches pushing her to become part of the Kings softball team. 
"My support system, Coach Bonner, was eager for me to play along with my mom. They helped me believe in myself," McFaline said.
Mia plays a few positions on the softball field and hopes to play different ones in the future. 
"My original positions are right field and second base, this year due to numbers I am being flexible as I can so I can be put anywhere," McFaline said 
 She realized that teammates create fun games and practices by supporting one another. 
"My freshmen [teammates],  Ayla Steele and Bella Bradds, they can make my bad day become the best day," McFaline said. 
McFaline has her team players back and if possible ensures they have a good time.
"Mia always makes everyone on the team laugh, and keep us in a good mood even when we're having an awful day, " Steele said.  Mia and I always take photos before every game and it's the best thing." 
McFaline's teammates view her as an outgoing person and love having her as a great team player. 
"I love how she is always positive and open to new things. At practice, she never fails to make me smile. I also love that even though we are on different teams she still finds a way to make it seem like we are on the same one," Bella Bradds said.
McFaline looks up to one of the seniors on the team. They helped her become a better player.
"My biggest role model [as a] player is Abigail Noble. She is the reason I haven't given softball up, she is just an amazing person," McFaline said. 
 McFaline stays on task and doesn't mess around when it's time to get focused.
"Mia is always there to work, but at the same time, keeps a light heart that I know every one of her teammates appreciates. She's funny but takes the game seriously,"  Noble said.
Noble enjoys exercising with McFaline during the summer off-season softball workouts.  
"Working out in the weight room in July this year and there weren't that many girls that came but Mia always showed up and working out with her was a blast," Noble said.
View Comments (1)
About the Contributor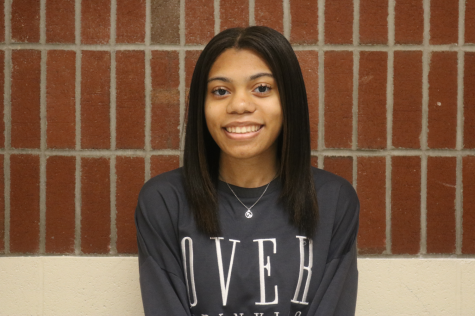 Senola Johnson, Staff Writer
As a Senior writing sports stories for The Knight Times, Senola loves being creative and seeing what new things she can accomplish. This is her second...