Mason Clark: Pitching Toward Prestige
5 ounces of cork, rubber, and yarn. All wrapped in leather. His entire life sits inside 5 ounces of cork, rubber, and yarn wrapped in leather. He scoops up the ball and digs his fingers into the seams. Each pitch more important than the last, he puts everything he has into that ball of yarn. 
Mason Clark lives and breathes baseball. For Mason, baseball isn't just a game. Baseball is a lifestyle, a job, and a tool that could take him places in life. 
"Baseball is and always will be fun for me, but I see it as more than that too. It has given me a lot of opportunities in life already and I'm really grateful for that," Clark said.
Clark's younger brother, Nolan, recounts some of his earliest memories of his brother's baseball career. According to Nolan, Mason has been playing for as long as he can remember.
 "I really can't remember a time when Mason wasn't obsessed with baseball. When we were little kids in North Carolina, him and his friends would be in the front yard playing wiffle ball for hours a day," Nolan said. 
Hours of practice on the wiffle ball field turned into becoming a highly touted recruit among D2 and D3 schools around Ohio. Clark didn't want to stay in Ohio. He was looking for more prestige. That's where NYU comes in. 
"I was recruited by almost every D2 and D3 school around, but really wanted to go to a high academic school because school is very important to me," Clark said. 
Clark is a dedicated student, involved in numerous extracurriculars and has a rigorous schedule, all while maintaining over a 4.0 gpa. Clark is a member of the National Honor Society at Kings High School, and is enrolled in difficult classes such as AP Spanish Language, AP Calculus, and AP Human Geography.
"I try to keep up my academics because student comes first in 'student athlete'. At the end of the day I know that baseball isn't forever so I need to be prepared for when it ends," Clark said. 
Clark is a PO or pitcher only on the baseball team. That basically means that on the days that he isn't pitching, he doesn't have a whole lot to do. He transitioned into a PO his junior year, launching his recruitment. 
"Once I became a PO I feel like I had a lot more time to focus on recovery and doing everything I needed to become really successful in pitching specifically," Clark said. 
One of his fellow POs, junior Jack Crawford, describes the impact Mason has on the team, even when he isn't on the field. 
"He is a super positive and outgoing guy as most people probably know already. His energy in the dugout really tends to bring everybody else up and is always smiling no matter what. All that is just in addition to how electric he is on the mound as well," Crawford said. 
Mason has a major impact on his teammates. Both personally and within the game of baseball, he is always making people better. 
"I think his love for the game more originated from the people he made relationships with and had the fun with," Nolan said. 
Clark knows that he won't be playing baseball forever. 
"I just try to make good use of my time with my friends, and have some fun while I can," Clark said.
Leave a Comment
About the Contributor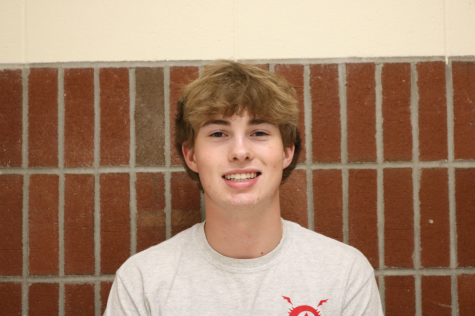 Ty Hacker, Staff Writer
Ty is a junior and a writer in the sports section for the Knight Times. His hobbies include working out and playing golf. He joined journalism with the...