Collecting cards and cash
Loud and bustling with people the corridors of the flea market are filled with small business owners and interested customers. Among those customers walks an up and coming card collector. With $100 in his pocket he wanders around the flea market looking for deals on sports cards. He leaves the day with a couple Micheal Jordan hologram cards, some wrestling figures, and a Chad Johnson-variation McFarlane Toy action figure.
A couple months later, Noah Bowman set up his first card stand at a card show in Sharonville with his uncle Kevin Bowman. 
"I took Noah to a card show in Sharonville and gave him a corner of my table to sell and buy cards," Kevin said. "At the time, he was still learning so he would come to me and ask if a purchase or sale was good or not."
After that, he bought his first collection of cards for $25. Inside the collection was a Derek Jeter rookie card.
"I took a gamble and it paid off," Bowman said.
After his gamble paid off, Bowman started investing in collections as well as specific players. Whenever investing in a player, Bowman is taking a chance that they might not do too well in their upcoming season and lose value. If they happen to do well their value could increase giving Bowman a higher income on that next sale. 
For collections, Bowman bought about fifteen $500 collections since he began back in 2017. Looking through collections is like looking for a gem inside of an old trash can, but if you try hard enough, that jem will be found. Bowman buys the majority of his collections from yard sales he discovers.
"I'm always looking for deals at yard sales. It's about getting lucky, if you're always out there doing it, you will get lucky eventually." Bowman said. "Finding that $1 box of cards and turning it into $4000."
Outside of yard sales, Bowman also buys cards from his peers.
"It was very easy, I brought a couple of boxes of old baseball cards I had to school one day because he said he would buy them from me," senior Austin Newton said. "I don't remember the exact amount that we agreed on but he took them and ended up flipping them for even more than he bought them from me for."
The majority of Bowman's sales were online through eBay but he also sells in-person and on Instagram.
"I try to sell more expensive stuff over Instagram and in-person. If you sell online [eBay] you get taxed. In-person is better because you don't get taxed," Bowman said.
Bowman continues to expand his knowledge on his cards to be able to find good players at better prices.
"I have so much inventory. I have hundreds of thousands of cards right now that I have been  sorting through the past few months, most of it is older stuff, older baseball [cards] which I'm trying to learn more about," Bowman said. 
Close friend of Bowman, senior Isaac Moore, also noticed Bowman's growth in the sports card world.
"Noah really went from rags to riches," said Moore. "He started out a boy and has become a man in the card selling business."
Looking into the future Bowman plans to maintain his business as a side hustle while attending Miami University to co-major in Emerging Technology in Business and Design (ETBD) and Marketing.
"It's one of those things where you can make it a full time job if you want to, but personally, I'm going to keep doing what I'm doing right now," Bowman said. "If you have a normal job, you have a stable income. With cards, you can make as much, but it's not as much of a time commitment."
Leave a Comment
About the Contributor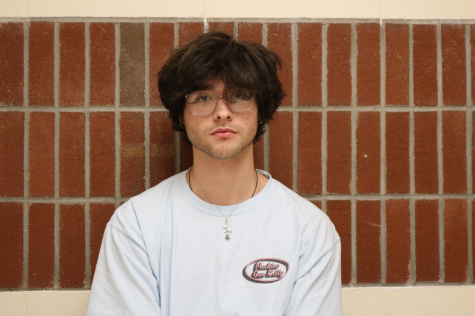 Jake Murrel, Staff Writer
Jake Murrel is a senior and a writer for the Art and Entertainment section of The Knight Times. He enjoys interviewing and improving his writing skills....