Carson Page: Setting the standard for salutatorians
"Last call, girls 3200-meter run, last call," repeats on the loudspeaker overhead. The final heat of the boys 200-meter dash started only 23.2 seconds ago yet it ended as fast as it started. Tired and out of breath, one of these sprinters spots a family member and the principal approaching the home stands. He quickly hurries off the track and makes his way to greet them.
Before he can reach his destination, he notices he is not feeling too great. He slows his pace and looks for the nearest trash can. The audible gurgles alert him that he is short on time. The principal can wait. He barely makes it as he starts to throw up. Whether it was nerves or the granola bar he ate before the race, his stomach empties and its conflict eases up. Afterwards, he walks on in anticipation. The principal, smiling, delivers a few congratulatory words. The athlete learns he earned the honorable distinction of salutatorian. 
Carson Page always maintained a strong balance between athletics and academics. The textbook definition of a student-athlete, he excelled both in and out of the classroom. 
"It's all about keeping a balance. Sometimes it can be hard to find this perfect balance but as long as you are trying your hardest for both it'll all work out," Page said. 
His journey toward academic success started as a child, being placed in the gifted learning category as a first grader. 
"I wouldn't say I realized it then, but looking back on it, it's easy to see. We were separated into reading groups and it took off from there," Page said. "I guess I've grown into it, developing a mindset that if there was someone that could pass a class or learn this subject before me, then I can do it too." 
A vision for success runs in the Page family. His older sister, Danielle Page, once walked a similar path. Graduating from Kings as valedictorian of the class of 2020, she's heading into her junior year at Vanderbilt University, majoring in computer science. 
"Growing up in the footsteps of my sister was a big part of my mentality. Next year, I'm going to Washington University in St. Louis, and I was a little worried about being five hours away from home. But seeing her go far away for her dream school reassured me I would be ok," Page said. 
With support from his family, Page worked toward any goal he sets his mind to. Balancing schoolwork and practice on the daily is a difficult task, but having a strong support group has made all the difference. Talks with his sister and having his parents attend his events make all the difference. 
"My sister and parents are very supportive, always congratulating me on track or quiz team. They go to my meets and games all the time, and I love it," Page said. "It feels good to know they are proud of what me and my sister have done. They've always been there. We've accomplished a lot throughout high school, they were there with us every step of the way."
Page and his sister shared interest in similar after-school activities. One notable extracurricular both siblings participated in was the Academic Quiz Team. While only competing on the team his senior year, Page made a strong first impression. As a main member of the four-man alphabet round and the final round toss-up questions, his versatility was essential to the team's dominance. 
"He really came in and blossomed," quiz team coach Michelle Bodey said. "Carson has a breadth of knowledge that was very useful to this team. He's very intelligent in geography and math, especially the physical science aspect. He took it upon himself to study subjects he's not naturally strong in, subjects that the team needed someone to step up for."
The team made it to the second round of the ECC tournament, losing in a close match to Walnut Hills, marking their best finish in the past three seasons. Page's impact did not go unnoticed in a strong ECC conference.
"He had a really positive outlook on everything, he's a great leader. He's enthusiastic, competitive, and a great role model for the junior varsity squad," Bodey said. "I'm bummed we didn't get to see him for more than a year, I can only imagine how much crazier he would have been."
Page's competitiveness did not stop at his academics. From playing basketball in his underclassmen years to joining the track team junior year, his well-rounded athleticism helped him excel in multiple sports. 
"The people and companionship was my favorite part of basketball. I made so many memories, so many inside jokes. I wasn't a fan of practices but my friends kept me playing," Page said. "Track sort of stemmed off basketball. I wasn't sure whether I'd be good or not, but I was only doing golf at the time and I wanted to do something more active. I fell in love with it, easily became my favorite sport."
As a jumper and sprinter, he competes in running events like the 100-meter dash, 200, and 400-meter dash. He is also the school record-holder for the triple jump, with an impressive jump of 39-5. 
"I knew going into the season that the record was low-hanging fruit. I had only triple jumped once in indoor track and I was about a foot short. I believed I could do it," Page said. "It was  at the Little Miami invitational when I broke the record. My first 2 jumps were not great but my last was really good. I didn't know I had broken it until the measurer announced it. I was overcome with excitement. It was a great achievement."
Going into college, Page considers running at the next level. A goal for him this season has been hitting times set by Wash U coaches in order to compete on their team. Washington University at St. Louis compliments its world renowned education with its high-level track team. Their men's track team is the current DIII Indoor national champions. 
"They had pretty high standards just for walking onto the team. I thought the 400-meter would be a good opportunity for him and he exceeded our expectations and theirs. Absolutely trounced them," Kings track coach Jim McCorkle said. "I have nothing but the utmost respect for him. He's an intelligent runner and very competitive. He absolutely took it to a different level this season."
Page's work ethic is what separates him from the rest, working diligently on both school assignments and sports. Prioritizing homework enables him to enjoy his free time, whether it's playing video games or hanging out with friends. He has found success in just being himself.
"I've won awards like academic achiever and salutatorian but I wouldn't let them define me. I've known a lot of people in the past, especially last year, who put their hearts on the line for it. I'd say it's something that just came to me. I took classes that challenged me but also interested me. Four years of high school and stressing over grades paid off," Page said. 
View Comments(1)
About the Contributor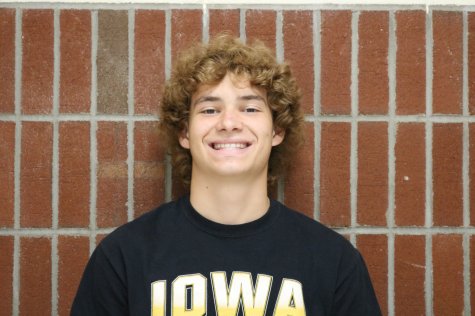 Tom Barta, Sports editor
Tom is a senior and sports section editor for The Knight Times. He has gone to Kings his whole life, starting in kindergarten. He loves listening to music,...