Barstoolkings_: An account that sparked a movement
He started a movement based on an idea of bringing the student body together at Kings. A social media movement. A social media movement that a wave of high schools in Ohio participated in. 
Michael Sarchet created the first high school Barstool-esque account (@barstoolkings_) to bring school spirit back to life after the pandemic. Now,  Milford, Loveland, Little Miami, and over 200 more high schools have accounts in Ohio.
"I never would have thought all these schools would join in on the movement that started from Kings," Sarchet said. 
A company founded in 2003, Barstool Sports began in sports betting and grew into a multimedia outlet. Finding a large audience among college students, the company then created Barstool social media accounts for universities. 
These accounts were seen by high school students, who created their own accounts for the high school level. These accounts portray funny moments from their school, information about sporting events, and any other submissions that students send in to get posted. 
"After seeing Kings start their account and all the attention it got, I immediately started an account for Milford. The account has been a fun way of seeing our school through the Instagram page," Milford's anonymous creator said. 
Sarchet takes credit for the number of high schools starting their own accounts. However, with all the positive credit associated with it, Sarchet's student life was attacked at times. Sarchet posted a video of a kid from a rival school that ended up getting him in trouble with the school's administration. 
 "The account kind of put a target on my back. I got suspended for a game of my senior football season, along with a couple visits to the office," Sarchet said.  
As an account manager, it is important to satisfy the student body and post things they want to see, while still keeping the account school appropriate, which can be challenging.
"It's hard to be responsible and keep every post school appropriate. People want to see the posts that draw attention and get the most talk," Sarchet said. 
Adults run college Barstool accounts on adult-focused media and have fewer limitations. At the high school level, account managers pay more attention to what they post.
"Seeing the time and effort Michael put into the account really showed that he cared about it and wanted it to succeed," Sarchet's friend Elijah Jones said.
Sarchet says that his favorite moment of running the account was the 2021 dart wars. He got to post a lot of funny information about people getting out and keeping up with the bracket. 
Students direct messaged, or "DM-ed," their submissions to the account and Sarchet would decide if it was worthy enough to be posted. Sarchet listened to the students, and according to viewers like senior Daniel Georgesen, he posted what people requested.
"Seeing the pictures and videos that I sent in get posted meant a lot to me because it made me laugh and everyone got to see them," Georgesen said. 
These Barstool-inspired accounts were also used for playful trash talk between rival schools. When Kings played Milford in any sport, there was always banter back and forth using the accounts. 
"I always looked forward to the fake beef that we would post about each other to give the sporting events even more anticipation than there already was," Milford's creator said. 
Sarchet accomplished his goals of lifting school spirit and bringing the student body closer together. While there were a few controversial posts that Sarchet handled in an orderly way, the account remained fun and exciting. 
In December of 2021, Sarchet graduated early. Due to this, the account's activity slowed down.
"It definitely won't be the same now that Michael has slowed down his activity on the page," Jones said. 
Sarchet plans to study at the University of Cincinnati and pass the torch down to an underclassman to run the account for the 2022-2023 school year. 
"I'm still deciding who the right person is to give the account to because I want the legacy of barstoolkings_ to carry on," Sarchet said. 
Leave a Comment
About the Contributor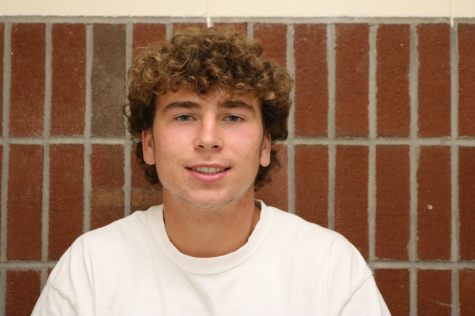 Jay Holubetz, Staff Writer
Jay is a junior and has been attending kings his whole school career. He joined journalism to try something new with his friends and pursue sports writing....