Kings High School seniors bring excitement to friday night lights
7PM. Friday nights.  Stadium lights. The student section gets ready for a night of thrill. Seniors pump up the night with wacky outfits hoping to leave a lasting impression.
Lauren Gallite feels the excitement of the student section behind her and she loves helping lead the underclassmen to participate in the games themes and support the athletes. 
"There are so many great things about running the student section. For one, all of the seniors are thrilled to show their spirit and everyone really goes all out on decorations and themes," Gallite said. 
This year, as a new tradition for senior leadership, a group of senior girls anonymously created a school Instagram account called the khsafterhours.
"We created the account in order to reestablish some of the senior traditions in high school and document the fun things students get to do here at Kings. Tons of people have joined the afterhours club to take part in spreading school spirit, and the account continues to grow every day," one anonymous senior told the Knight Times. 
To continue spreading the positivity of Kings sports and their games, they will hand it over to the next senior class. 
"I would really like to pass the account down to a responsible rising senior. The purpose of khsafterhours is to be a source of information coming from students, and the best candidates are the leaders who have the most experience in the high school," another anonymous girl said.
In the early 2000's past senior classes made a traditional habit of having a student section with leaders, passing down the red jacket to the next senior class to choose who they want to lead the student section and decide how they want to show school spirit. 
"Personally I feel like being in the front leading everyone is an experience everyone should have. After 4 years I think you finally get to see how fun the student section really is," Kristina Kolodeznova said. 
Seniors make every game count because it is their last time supporting the team.
"Since it's the last year we get to be here, everyone puts in the most effort, which is so awesome to see. Because when you're younger you kind of take it for granted," Kolodeznova said. 
The red jacket job isn't easy, red jacket leaders monitor the student section, decorate, and plan themes. The main goal is making sure everyone is enjoying themselves.
"Being one of the red coats, I'm not going to lie, is a bit stressful because you want to see everyone have fun, though so far I feel like this is the best energy I've seen from a student section," Kolodeznova said. 
 Staying positive and showing the underclassmen how the student section works makes students feel welcomed and more comfortable joining in. 
"I know how I felt when I was younger, being yelled at by a red jacket. It was kind of annoying because obviously I tried to engage but it was hard when no one else was. I try to encourage everyone and always tell them they're doing good because I feel like words of praise makes everything better," Kolodeznova said. 
Kolodeznova helps out a lot by making the student section feel alive and the football players more hyped by buying decorations for each game showing school spirit. 
"I try to decorate the student section. The football team thinks it's cool and they love it and it encourages them to do better. I bring the Nicki Minaj flag and everyone loves it. We also bring a speaker and play music. It engages everyone to have fun, even the cheer team," Kolodeznova said.
For Kolodeznova, leadership is very important to her, getting the opportunity to control what's going on in the student section.  
"I feel very proud of myself because I knew I always wanted to be the leader of the student section whether it was by myself or with others. I am very glad I was named as one,"  Kolodeznova said. 
Seeing past seniors run the student section encouraged Owen Peters to want to take a big part and lead the student sections. 
"When I was freshman, honestly the red jacket made me participate more. I recognized their leadership and instantly knew that I wanted to be a red jacket when I was a senior," Peters said.  
The energy from the student section in past years helps motivate younger students to want to participate when they get the opportunity in the future. 
"I feel very honored in a way. Going all the way back to junior high I remember looking over at the student section and seeing tons of high schoolers screaming and cheering and I wanted to be a part of it and now I'm leading it," Winston Emerson said. 
 As the new incoming freshmen may not know how the student section works, Emerson wants  to make everyone not feel judged in the student section. 
"I try my best to interact with everyone I know at the games and matches. I don't really care a whole lot if I'm not close to someone, I'll still try to talk to them just to have fun while I'm doing it," Emerson said. 
Students' school spirit and positivity in supporting their teams make every game a great one. 
"The students are what make the games fun, and there's never a dull moment in the red sea," Gallite said. 
View Comments(1)
Donate to The Knight Times
Want to show your appreciation?
Consider donating to The Knight Times!
Your proceeds will go directly towards our newsroom so we can continue bringing you timely, truthful, and professional journalism.
About the Contributor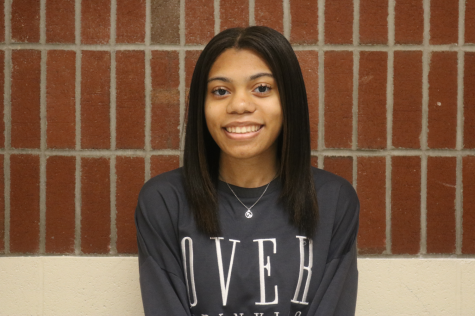 Senola Johnson, Features Editor
As a Senior writing sports stories for The Knight Times, Senola loves being creative and seeing what new things she can accomplish. This is her second...