Student section feels the loss against Winton woods
Students seated in the Red Sea at Friday's game versus Winton Woods felt a strong connection to the football team's loss. Students said when the team wins, the whole school wins.
Avery Wolf, a Senior, screams at the football team louder than anyone else in the student section. It's as if she believes her cheers provide hope about what the football team can do in their season and postseason in the next play. She believes the team can beat Winton Woods again in the playoffs.
"Everyone was cheering and we were all there to hype up the football team. That is a part of our school and they are our classmates and so we want them to win and feel good because we know that winning isn't just for them, but they feel like they're winning for the entire school," Wolf said.
Laney Howes, a freshman, sits at the top of the Red Sea student section. Although she might not be in the middle of the school spirit, she has a great view of the game and enjoys watching the team get a victory.
Her connection to the team is so personal she speaks as if she's a member, "we have to build on what we did wrong," Howes said.
Kristina Kolodeznova continues to lead the student section as a red jacket. She tries to keep the energy up throughout the whole game, especially during a close match-up.
"You could definitely tell the energy died down because I feel like everybody knew we were going to lose towards the end. There was a glimpse of hope in the beginning, but it started to simmer out towards the end," Kolodeznova said.
The student energy felt tense as the clock ticked down for the finish of what turned into a loss for the Knights.
"It started getting really close. You could just tell that the students were excited as well as the parents. Having the parents all cheer with you is something. I don't know if I can really explain, but it gets you more hype as a student because you want to win and you want the football team to win. It's everybody's team. It's the school's win," Wolf said.
Leave a Comment
About the Contributor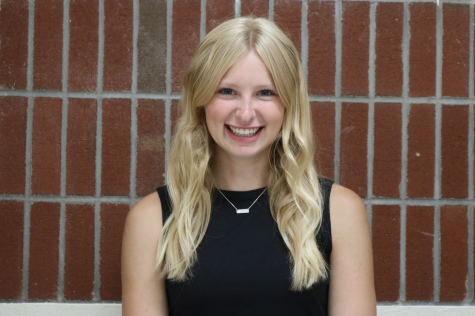 Grace Nelson, Staff Writer
Grace is a senior and writes feature stories for the Knight Times. She has been at Kings' since pre-school. Grace joined journalism in hopes to write stories...