Men's and women's basketball teams make history and create courtside chemistry
The men's basketball's season came to an end with a loss to Western Hills in the second round of the tournament. The Knight's played a good season, improving from a record of 10-12 in the 2021-2022 season to a record of 19-6 this season. Myles Baker, a sophomore on the basketball team, views the team as one unit.
"Our biggest success happened because of our chemistry and how close we bond together, " said Baker", "we work very hard and are always competitive in practice."
The community also rallied around the team, which made a great send-off for the seniors on the team. Jay Holubetz, a senior on the team, is grateful for the community's passion.
"The gym was always packed for games and that's what excited us the most, " Holubetz said.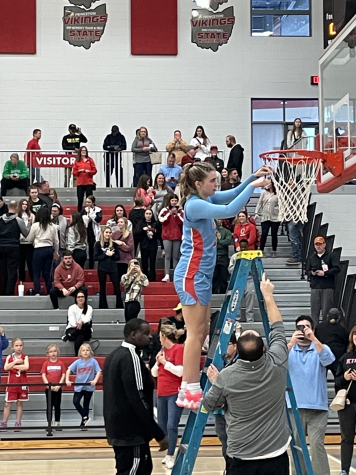 Not only was the men's season successful, the women's team dominated also. They finished the season 17-6 and made it to the regional finals, where they fell to Princeton. The improvement of the team shows, as they finished 11-8 during the 2021-2022 season.
"I believe we as a team became closer with each other and that helped us become a stronger united team," said Ryann Schnecker, a sophomore on the team.
While they had a successful year making it to the regional finals, the goal in the coming years for them is state.
"I think we are all very proud and happy with how far we came in the tournament," said Schnecker, "we're hoping to keep this going in the years to come and for next year to make it to state." 
With both basketball teams having historic success this season, the program at Kings has benefited. This was the first year that any team besides the football team reached the regional finals and the first time the boys team were league champions since 2016.
"It really shows the direction that our basketball program is going in," said Eric Taylor,  the athletic director, "we're in a really good spot to be successful for years to come."