Choir to Rock: Meet the kid who found their true passion in rock music
Standing before a nearly empty music venue, Cincinnati's School of Rock House Band sets up equipment at Lori's Roadhouse. As the seats begin to fill with family, friends, and complete strangers, the group's anticipation rises, it's almost time for the performance. Senior Bell Cantrall vigorously studies the lyrics in the opening song 'Dead!' by My Chemical Romance. They don't want to mess up their first performance.
"I was like, 'Oh my god I sound so loud right now, this is so so scary,' I was worried that I was going to screw up and that I was going to be loud when I screwed up because I didn't have the band behind me. Then once everyone else came in it was fine," Cantrall said.
Making House Band at School of Rock is not an easy thing to do. It consists of the top 5 percent of the students who attend and opens up big opportunities for its attendees, one of which is a chance to audition for the national School of Rock called All Stars.
Through three rounds of auditions, singers from 300 schools of rock around the nation audition for limited All Stars spots. Only one person from each School of Rock gets into the All Stars program. All Star singers travel the nation during the summer performing at different venues, some as big as Lollapalooza.  
Stephen Kuffner, the general manager of the Cincinnati School of Rock is excited for Cantrall to audition. Getting into the All Stars program opens a lot of doors for up-and-coming artists to spread their wings as an artist.
"Our school has sent about eight to ten students. [It's exciting that] they get the opportunity to join a touring band and meet other students of similar ages and skill levels," Kuffner said.
Cantrall remembered the moment they got inspired to join the School of Rock. It was during a performance watching their friend Noelle Adler play drums for House Band. Adler also did some convincing of her own that ultimately helped sway Cantrall's decision to go.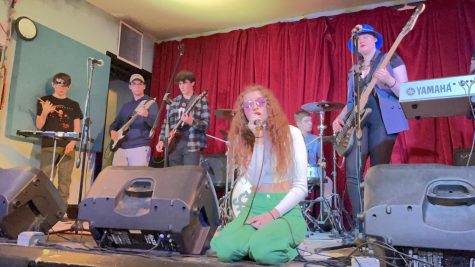 "Noelle started going to the School of Rock and she was telling me about how much she loved it, and I ended up going to a couple of her shows. It was cool seeing all the different kinds of people that go there and all the different age groups as well, and all the different styles of music I'd never heard before. I remember I went to her 'Ladies of The 80's' show and I was absolutely obsessed with this one guitar player because she was just so talented and made it look effortless," Cantrall said.
Before finding the School of Rock, Cantrall performed her talents in other ways including but not limited to singing in the school choir, junior high theater, and even competitive dance.
"The first time I went was in 2019 for camp and I didn't actually start becoming a student there until last September," said Cantrall. "I've been doing choir since I was in fourth grade, and I had always wanted to try something like School of Rock but I thought, 'Oh my gosh, like, these people are insanely talented running up here on stage and I don't think that I could ever do that.' And then once I actually started going and did the camp, [I] immediately [thought] this is incredible. I love every minute of this."
Cantrall's love for singing goes back to before they got involved in school extracurriculars, even before choir. However, the choir was a guided and open space for students to sing in a group without pressure from an audience. It wasn't until they found choir that they gained the confidence to experiment with things like solo singing and performance, which helped them make the jump to singing outside of their house and fully broaden their talents.
"I was nervous to sing alone with the School of Rock stuff that I do now. Doing choir gave me the space to do it in a group setting and test the waters and see if it was something that I actually enjoyed doing," Cantrall said.
"
I love the heavy bass in a lot of rock songs. The gritty part of the vocals with calm guitar solos. The way the vocals sound and the scratchiness of it. I love feeling all of that kind of stuff when it comes out of my mouth. It always pulls me in.
— Bell Cantrall
Cantrall's singing range spans from Megadeth to Janis Joplin. However, their personal taste in music hasn't always been as wide. Their first performance was in December of 2021 and this is now their second year going to the School of Rock where they've only widened their music taste.
"I really liked the Jonas Brothers when I was younger, and Hanna Montana," Cantrall said. "But right now it's kind of been switching between two opposites. I've been listening to a lot of Def Tones, System of a Down, Korn, and then sometimes it'll be stuff like Modern Baseball, The Front Bottoms, Mom Jeans, like the complete opposite side of the spectrum. But I would say most of the time, it's the more metal stuff."
Cantrall's friend Mallory first introduced them to Megadeth over a year ago. Ever since, they've fallen in love with rock for the guitar solos and certain singing adaptations found in subgenres of rock music.
"I love the heavy bass in a lot of rock songs," Cantrall said. "The gritty part of the vocals with calm guitar solos. The way the vocals sound and the scratchiness of it. I love feeling all of that kind of stuff when it comes out of my mouth. It always pulls me in."
While Cantrall has sung all of their life, very few people make it to the national level of All Stars. Not making All Stars is not an end to a young musician's career; ultimately, they leave the School of Rock after their senior year. There are other activities, competitions, and paths that School of Rock singers can take.
Cantrall plans on pursuing the All Stars program if they get accepted. Other musical groups for instance, like Plush, have gained a large following in the United States after All Stars and it's given Cantrall hope of an outlet to pursue their music as a career. For now, they're also looking at other opportunities after high school if they don't get accepted.
"I'm thinking of taking a gap year and I'm looking at possibly becoming a flight attendant or singing and performing for a cruise ship for six months at a time. It would just be performing like once or twice a cruise, but I'd get to travel as I do it," Cantrall said. 
View Comments(1)
Donate to The Knight Times
Want to show your appreciation?
Consider donating to The Knight Times!
Your proceeds will go directly towards our newsroom so we can continue bringing you timely, truthful, and professional journalism.