Crafting visual narratives: Claudia Fay's artistic voyage into the world of graphic design
She thinks about art as a kaleidoscope of butterflies–freeing and liberating like a bunch of ideas floating around in her mind. 
"I [make art] to help if I'm stressed, or if I just need something that will bring me peace," Fay said. 
Using art to relieve stress has been useful to Fay, taking her mind off things that are bothering her. 
"These last couple of months, I've just gone through some family stuff. I feel like I've started to take out things to do to keep myself busy," Fay said. 
Fay purposely joined classes in high school that would bring out her creativity and imagination. 
"I wanted to take classes that I would actually enjoy and classes where I could use my creative brain. I also loved yearbook and digital media over the years so I chose to take more of those classes again to gain more skills. Eventually, I learned that from liking those classes I wanted to go into a career that kind of incorporated aspects of both," Fay said. 
After all the classes, Fay realized she will stay interested in art forever. She prefers 2D art and graphic design because she's able to mix a lot of different designs into those two mediums. Fay enjoys studying and learning new creative techniques.
"After I took both of my digital media art classes, I feel like that's how I found out that I want to do graphic design because I got more practice in it. I just feel like I was kind of good at it and I want to learn more about it," Fay said. 
Fay appreciates the difference between working on digital graphics for a client and creating designs for herself.
"Depending on who I'm creating the graphic for my goal is that the final product is something that they like, But if it's just for me, my goal is just for it to be something unique and interesting for others to look at," Fay said. 
Fay has become so well known for her design technique that she was asked to create the senior class video for the baccalaureate ceremony. She wants to make a memorable video for the senior class to watch. 
"I'm doing a lot of graphics for that. I am designing graphics for [signage] when people walk in and making a brochure with all the presenters on it," Fay said.
The process of making a video seniors will enjoy before graduating, and editing together takes a bit of time for Fay.  
"First I had to think about the layout and how I wanted the video to be formatted, what kind of text I wanted in it, the length, and videoing schedule. After that, I decided to start interviewing people in groups and videoing them. I asked them some questions about their senior year and they gave me their answers. I had to wait for everyone to finish filming then I started editing," Fay said. 
The yearbook teacher, Carrie Snyder speaks, very highly of Fay's talent and being a great leader in the staff. 
"Claudia as a yearbook staffer is reliable, dependable, creative, supportive, and energetic. Claudia designed our cover universally. It was a completely known fact that she would just do it. She had great suggestions, heard what everybody else said and incorporated their ideas. Everything Claudia does is top-notch," Snyder said. 
Fay put a lot of thought into designing this year's yearbook cover. She is detail-oriented and knows what will work best. 
"First, we came up with a theme I started figuring out color schemes and then trying to figure out what font I wanted to use. Then once I found the aesthetic, that kind of went with the theme, I started designing it and I did a bunch of trial and error processing," Fay said. 
Snyder and her classmates think that Fay is a great communicator and always is willing to lend a helping hand during class. Fay takes the time to listen and teach others how to work in yearbook. 
"Claudia was actually on the staff the year before so it's been really nice to have her as a support for some of my new people. She knows the trick. She knows what buttons to push and knows how to be more artistic," Snyder said. 
When it comes to getting work done Fay is on top of it. She brings enthusiasm to class and works hard every day to accomplish a project. 
"Claudia always comes into the room with a smile. She is so positive and excited to work on any project we are working on. Claudia has a great attitude about her assignments and shows great attention to detail and craftsmanship in her work," Cassandra Barnes Said. 
With all the projects she has accomplished within the year, Barnes sees the potential Fay has with her creative future. 
"Claudia is pursuing design in her future plans and I am super excited to watch her journey. My advice for her for the future would be to continue to do what brings [her] joy and accept criticism humbly," Barnes said. 
 Lily Ringler built a friendship with Fay because their interests brought them closer. 
"I asked Claudia to be my partner mainly because I wanted to get to know her more. I could tell all year that we could build a friendship so I thought BPA would be an amazing time to get to know her and work with her. Her work ethic is amazing and I'm so happy I became partners with her," Ringler said.
Fay looks forward to what she will create in her future art career. She wants to be satisfied with the work that she produces. 
"I want to be able to have a job that I actually enjoy doing and that hopefully other people find helpful," Fay said.
Leave a Comment
About the Contributor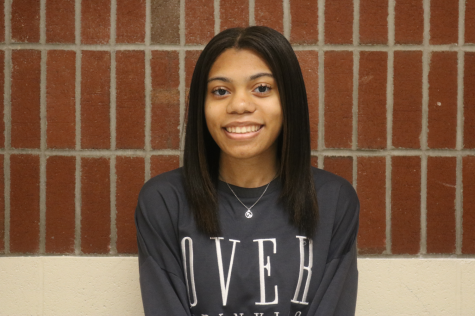 Senola Johnson, Features Editor
As a Senior writing sports stories for The Knight Times, Senola loves being creative and seeing what new things she can accomplish. This is her second...