How Maysaa Mohammed found inner strength through faith and community
A nine-year-old brown girl sits in a cafeteria full of white kids. Unlike the other kids, she isn't eating lunch because she is fasting for Ramadan. Kids and teachers look in her direction with curiosity.
"Why aren't you eating?" one kid asks.
"I'm fasting," the girl responds, "I don't eat from sunrise to sunset."
"That's weird, why are you starving yourself?" they respond.
"It's part of my religion, I don't really know why." At that age, she didn't understand her religion yet. 
Maysaa Mohammed is often the only Muslim in the room, and she struggles to find people like her at our predominantly white school. She felt lonely not knowing any other Muslims and fasting by herself until she met others this year.
"I started here about halfway through sixth grade. It was pretty lonely. It was pretty stressful. They put me on the wrong team, so for the first three weeks, I was trying to get accustomed to people, and I was finally getting used to everyone but then my math teacher called my mom and she's like, 'Hey, your daughter's not in the right class. She needs to be in the advanced class on the other team.' It was basically like moving again because I didn't know anyone else on that team," Mohammed said. 
Mohammed's love for reading proved to be a source of comfort during her difficult transition to a new school. Her passion for reading was so strong that she continued to read regardless of her circumstances.
"I read so much because I was so lonely. I remember exactly what book series I was on when I moved here. Like every major life thing has either a book trilogy series tied to it or a song. So at that time, it was the Divergent series. I was reading the Divergent series when I moved teams and moved schools," Mohammed said.
While the transition was rough, Mohammed's parents were always there for her. They understood that going to a school where she would be a minority would leave her with questions about her faith and others.
"They never really forced [anything] on me. They left it open for discussion. If I had any questions or if I was questioning something about my faith, I would feel really comfortable talking to them about it. And they wouldn't judge me or anything. They were like 'We understand you're a brown girl growing up with primarily white children. So it's normal for you to question it,' since the only attachment to my culture and religion is through my family," Mohammed said.
Mohammed often is the only minority in the room but she's learned that different isn't bad. She compared it to flowers and lights.
"They're both pretty, but they're different and that's okay. I can be in my own bubble and thrive. Everyone can be in their own bubble and thrive. It doesn't take away from other people's successes or their personalities. That's just what we are. We're equals but we're different. I've learned that if I embrace my culture and my faith strongly enough, then I won't feel that loneliness anymore, because I'll attract people that are like me, and that will accept me," Mohammed said.
One place Mohammed found acceptance was mock trial. She did it for three years, her favorite being this most recent year because she feels like she made new good friends, connections and memories. People on the team lifted her up.
Her teammate Jenna Tackett recalls that Mohammed felt defeated about the team's chances to make it to districts. Mohammed wanted to quit when Tackett reminded her, "We don't care that you want to quit. This isn't about you. We put in too much work." The team made it all the way to regionals and Mohammed understood that she needed her team for support.
Mohammed returns the support to her friends because she is known for being kind, accepting, and hard-working. Her positive energy is contagious.
"She's just super hard working academically, and she's one of the most supportive people I know. She's always there to hype me up and just lift me up and if I'm ever in a bad mood, seeing her just lifts me up. She's awesome and she has a lot of self-love. She knows she's a queen, super smart, super kind. She has a big heart. She cares for a lot of people, especially for her friends and for her family. She'll do anything for them," friend Lexi Stierwalt said.
Leave a Comment
Donate to The Knight Times
Want to show your appreciation?
Consider donating to The Knight Times!
Your proceeds will go directly towards our newsroom so we can continue bringing you timely, truthful, and professional journalism.
About the Contributor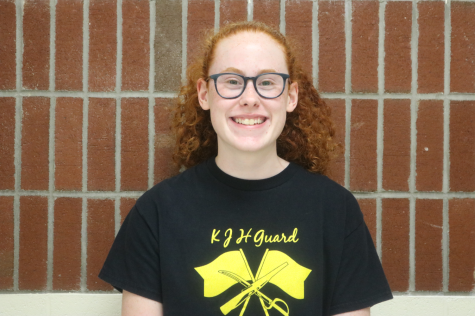 Paige Dwyer, Editor-In-Chief
Paige is a senior and Editor in Chief of the Knight Times. This is her second year in journalism and she joined journalism to improve her writing skills...