A Season of Positivity and Persistence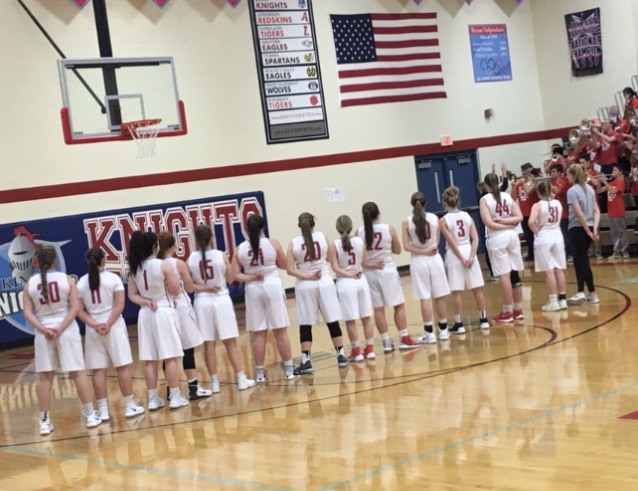 By Christian Pierce
The Kings Lady Knights started their season last week. The reigning ECC champions have very high expectations, but they still have challenges to overcome. Seniors Lilly Richardson and Savannah Mussari shared their excitement, expectations, and goals for the season, as a team and for themselves.
Richardson is most excited for, the tournament. "We made it really far last year. Everyone came together and the team had the whole school behind them. I'm excited to have that same feeling this year."
Mussari also shared what she is most excited about this season, "To play with all the girls I have been playing with and some of the newer members to the team. I think we have a really interesting dynamic and I am really just excited to see where it takes us in the end."
Along with this excitement and anticipation comes expectations and responsibility.
"We should all have the same heart you know. Like put the same amount of effort in. We are one team, one group, one family. We win together we lose together. We won the ECC last year. Everyone has a target on our backs, so now we really need to show them who we are. If everyone has the same motivation, I think we can do the exact same thing we did last year," Richardson said
Mussari hopes for back to back ECC championships and a state championship.
The Knights first challenge came on December 14th against West Clermont, a new amalgamation between Glen Este and Goshen. This emerging Wolves team draws from the largest talent pool of any school in the ECC. West Clermont has three players that have already signed to play college basketball. Jasmine Hale signed to Division I Wisconsin. Alexis Starks signed to Division I Gardner Webb, and Kaylin Burdick signed to Ursuline College (Cleveland).
"We need to work more in practice, have a harder work ethic, and really push ourselves. When we push ourselves in practice we are going to push ourselves in games. I think we really need to work as one unit instead of 5 individuals. Defense is our main thing that we focus on. I think the more heart and effort we put on defense our offense will come after," Richardson said.
Mussari said, "We all know how it feels to lose. We never want this to happen again. I think that as a team we can't spread out and become more individualized. We have to come together and play as one and trust each other and have each other's back. I think that the biggest thing is we have hit rock bottom so we can come back from that and we can only come up from here."
The basketball season is a long one.
Mussari wants the team to maintain confidence in themselves and in their shots. She said, "The team needs to play like they know how to play and believe in the all the hard work they have put in during the off-season and trust each other and overcome this."
Richardson expressed how the team needs to have the mentality that no one can "get through" them. Other teams have "high standards" when they play Kings. She said, "We need to be that powerhouse and bring back the old."
Even though there will be struggles along the way Richardson and Mussari have dreams for the team and as individuals.
  Mussari said her biggest dream is that they can "all play together" and that even when the team is down on each other "we can pick each other right back up and continue playing and just have fun with each other."
Richardson's biggest dream is  "Obviously winning the ECC again." Her biggest hope is that "everyone gets a good memory out of this season." Playing basketball these past 4 years for Richardson has been the best time of her life. She looks forward to basketball season and wants others to look forward to basketball season too.
Four years of basketball have brought about a lot of happy memories for these Lady Knights
Richardson remembers karaoke nights, trips to Top Golf, and team sleepovers. "I love going to practice seeing everyone having a good time. We have fun at practice. Most times it is serious but we have those times where we can just laugh and joke around."
As for Mussari, here favorite part is, "Being able to, at the end of the day, have all of these girls that are my best friends."
This has been a highly anticipated season for the Lady Knights.  One of the team's biggest strengths is, no matter the circumstance, they are always positive and uplifting to each other. A team that is together like this can accomplish anything.
Richardson wants to "be a leader on the Court and off the court. On the court talk. Be a powerhouse and get in front of the tallest player on the court. Whatever her sets are don't let her get there be the force that gets in her head. That's what I do every single game. That's what I think about before I step on the floor."
Mussari's approach to leadership is all about looking ahead to the future. "I just want to be able to be there for the underclassmen so they will be better for next year as well."
The Lady Knights expect to go far in the tournament again.
Richardson believes they are going all the way. "I think when we go against those big GMC schools that's when we always have our hardest competition. I hope that we make it to those games. I think that if we had a big powerful force going against them that no one can beat us."