Winter Movie Guide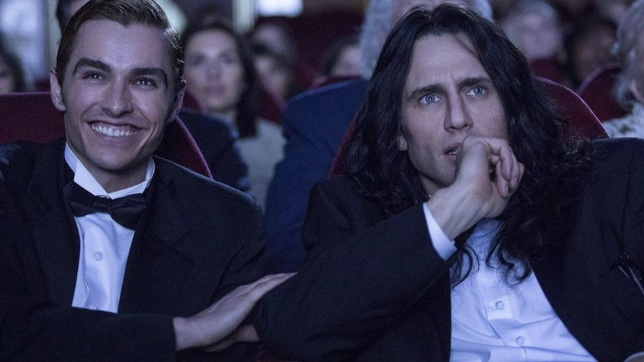 By Kevin Lewis
As the year comes to a close audiences are looking for an escape from the holiday madness. This December is a significant movie month for Oscar contenders and some big blockbusters. Here is a list of films that I think you should watch this holiday season (after you have seen The Last Jedi, of course):
The Disaster Artist
What it's about: "The true-story of aspiring filmmaker and infamous Hollywood outsider Tommy Wiseau—an artist whose passion was as sincere as his methods were questionable—into a celebration of friendship, artistic expression, and dreams pursued against insurmountable odds. Based on Greg Sestero's best-selling novel about the making of Wiseau's cult-classic 'The Room'," (A24).
Why you should see it: The film is a hilarious look into the making of the worst movie ever made and it features some great cameos from "big Hollywood celebrities." James Franco has major Oscar buzz for portraying the enigmatic Tommy Wiseau and looks to be the frontrunner for the major accolade this awards season.   
Watch the trailer here
Release Date: December 8th (Wide)
The Shape of Water
What it's about: "Elisa is a mute, isolated woman who works as a cleaning lady in a hidden, high-security government laboratory in 1962 Baltimore. Her life changes forever when she discovers the lab's classified secret — a mysterious, scaled creature from South America that lives in a water tank. As Elisa develops a unique bond with her new friend, she soon learns that its fate and very survival lies in the hands of a hostile government agent and a marine biologist," (Fox Searchlight).
Why you should see it: Since premiering at the Venice Film Festival this summer the film has has received non-stop praise from critic associations and has been said to be Guillermo Del Toro's best film since 2006's 'Pan's Labyrinth.' The film garnered the most Golden Globes nominations out of any of the other nominees and is looking like a big contender for best picture this year at the Academy Awards.
Watch the trailer here
Release Date: December 22nd (Wide)
Bright
What it's about: "In an alternate present day, humans, orcs, elves and fairies have been coexisting since the beginning of time. Two police officers, one a human, the other an orc, embark on a routine night patrol that will alter the future of their world as they know it. Battling both their own personal differences as well as an onslaught of enemies, they must work together to protect a young female elf and a thought-to-be-forgotten relic, which, in the wrong hands, could destroy everything," (Netflix).
Why you should see it: This film could change the movie-going experience by taking theaters out of the equation entirely. Netflix has spent $90 million dollars on this Sci-Fi Action film from the director of 'Suicide Squad' and starring Will Smith. You can watch this film for free with a Netflix subscription on the comfort of your own couch. If this release strategy works the landscape of movie-going will become drastically different because every studio will want to jump on the digital day-and-date release.
Watch the trailer here
Release Date: December 22nd
All the Money in the World
What it's about: "The film follows the kidnapping of 16-year-old John Paul Getty III (Charlie Plummer) and the desperate attempt by his devoted mother Gail (Michelle Williams) to convince his billionaire grandfather (Christopher Plummer) to pay the ransom. When Getty Sr. refuses, Gail attempts to sway him as her son's captors become increasingly volatile and brutal. With her son's life in the balance, Gail and Getty's advisor (Mark Wahlberg) become unlikely allies in the race against time that ultimately reveals the true and lasting value of love over money," (Sony Pictures).
Why you should see it: An Oscar bait film that wouldn't have made this list if not for the fact that about a month ago the director, Ridley Scott, decided to recast Kevin Spacey's leading role in the film and replace him with Christopher Plummer. This would not have been the biggest story, but Scott is sticking with the original release date and will be reworking the film right up to the final days before its release. This move will allow the movie to have a qualifying run for awards season and frees it from Spacey's recent allegations. With a mixture of digital face replacement and reshoots it will be really interesting to see what becomes of the film. The Hollywood Foreign Press was allowed to see a cut of the film and gave it three nominations for the Golden Globes including one for Plummer, the actor who scored the role four weeks ago.
Watch the trailer here
Release Date: December 25th
Call Me by Your Name
What it's about: "It's the summer of 1983, and precocious 17-year-old Elio Perlman is spending the days with his family at their 17th-century villa in Lombardy, Italy. He soon meets Oliver, a handsome doctoral student who's working as an intern for Elio's father. Amid the sun-drenched splendor of their surroundings, Elio and Oliver discover the heady beauty of awakening desire over the course of a summer that will alter their lives forever," (Sony Pictures Classics).
Why you should see it: If you want to make sure you see the biggest contenders for the Academy Awards this should be the one at the top of your list. Since debuting at the Sundance Film Festival in January this movie has been the film to beat when it comes to awards season. Timothée Chalamet and Armie Hammer star and they have been nominated for multiple awards already. The film is another major step forward for representation in the industry for the LGBT community after last years' Moonlight.
Watch the trailer here
Release Date: January 19th (Wide)