Senior Wills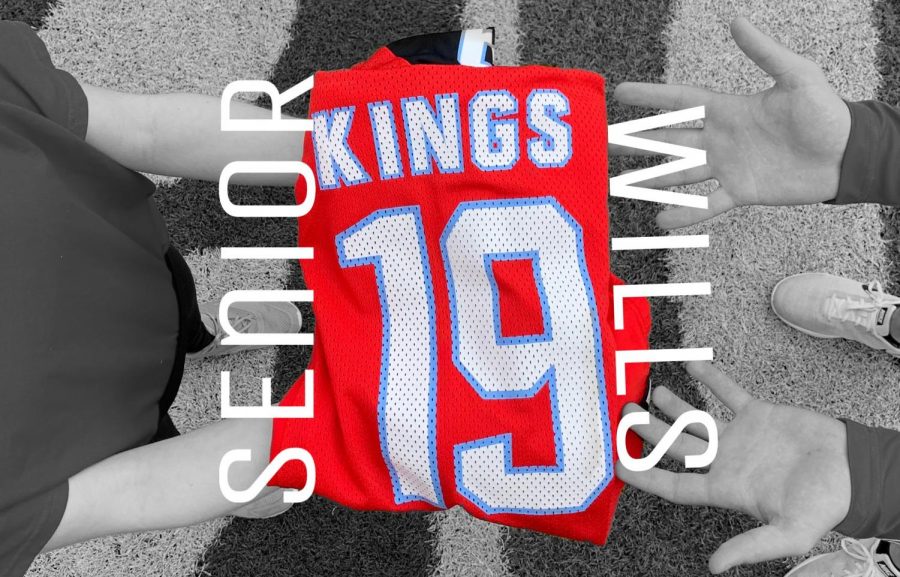 I, Kevin Lewis, will my good grades to Trinity Acree.
I, Zoey FitzGerald Kidwell, will my absolutely exceptional moments to Trinity Acree.
I, Chloe Keith, will the pure hatred of Antonio Pasquela to Kendall Keith.
I, Tim Bredemeier, will my flat hoops for heart basketball Devin Karrick.
I, Brooke Howard, will doing cartwheels and handstands in choir to Reagan Milthaler.
I, Kyle Bender, will my 40% Deet Bug Spray to Zach Baker.
I, Justin Alcorn, will my neverending list of anime I need to get through, to Justin Tran, and to my dearest sister, Tiffany Alcorn, I leave my ability to be a minute and a half late to first bell and not be counted tardy (most of the time), and to the rest of Smash Club, I will you the conscious to clean up after yourselves.
I, Grace Bernius, will my party hosting skills to Jersey Buck and Grace Strickland.
I, Alex Poling, will my name to Alex Sullivan.
I, Megan Yoder, will my speedy socks to Mae Thomas.
I, Jackson Hacker, will the ability to show up on time for meetings to Keegan FitzGerald.
I, Gage Stirsman, will my hate and anger to Ryan Thompson.
I, Ryan Freeman, will the Ranger to Ethan Freeman.
I, Rowan Hayden, will my marching technique and sick beats to Andrew Theiss.
I, Anna Combs, will my reusable water bottle to all who still use plastic bottles.
I, Andreah Hernandez, will my future to those who need help.
I, Bella Miller, will the responsibility of designing the cross country spiritwear to Anya Martin.
I, Chris Roat, will my lack of motivation to Maddie Wilhelm.
I, Erin Seccia, will my incredible customer service voice to Allison Parks.
I, Briton Longwell, will number 0 to Dylan Barnett.
I, Amy Helms, will choir massages and being a singing queen to Miss Katie Hill.
I, Dalton Evans, will the leadership and selfless attitude to the underclassmen to ensure that every class, as the years go by, learn how to put others before themselves and lead by example. More "we" and less "me" attitudes means the potential of the team grows exponentially. I hope for the upperclassmen to always make the underclassmen feel welcomed and loved, and never seen as inferior to the upperclassmen. A team is a team, not a team of individuals. I promise if this is done every year that this small world we know as Kings Mills will strive and be leaders within the world.
I, Jordan Harkins, will my room to Maggie Harkins. (Please don't let mom turn it into a scrapbook room)
I, Mallory Marchal, will being unable to open locker 3284 to one lucky member of the class of 2020.
I, Christian Pierce, will my school spirit, passion for sports, and my super fan craziness to Brian Reagan.
I, Hayden Esler, will my guitar pics to Dawson.
I, Avneet Dharni, will the jump rope to Jenna Millecker.
I, Avery Herd, will to my sister, Ellie Herd, my math notes from algebra to calculus that won't help you at all because I'm really bad at math, and that's what sisters do. I also leave to Ellie all the clothes she's borrowed from me over the years and never given back. I will to my best friends, who know who they are, all the memories over the years and my gratitude for sticking with me through thick and thin.
I, David Wynn, will D&D Club back to Grant Shields.
I, Anna-Claire Barker, will my 4 year varsity bowling skills to Lindsay Abbot and an ounce of my artistic talent to Izzy Reyes.
I, Gwyn Gorley, will the tradition of chopping off hair at the end of cross country season to Ella Hanlon, running the first leg of the 4×400 relay to Anya Martin, and all of my calc notes to Brooke and Ashlyn Garter. (Hopefully you will understand it more than I did.)
I, Bettina Gwen Tan, will my sketchbook to a freshman.
I, Kellyn Schroeder, will my dress collection and all of the clothes that don't fit in my dorm to Jaidyn Schroeder.
I, Shawn Render, will my glow to Chris Adams.
I, Kimberly Dyer, will my strength and courage to Peyton Mckinney.
I, Evette Fernandez, will my sarcasm to someone who needs the defense.
I, Erica Smallenbarger, will my strength and dedication to Tiani Taracena.
I, Haley O'Leary, will  my tutu to any willing Junior.
I, Ryan O'Donnell, will my signature move, "The Perculator", to Brennan Kilgus.