New club in town: kings ping pong
The Ping Pong Club delayed their start date due to club adviser Jorge Gonzales being quarantined. The original start date was September 28th, and now student leaders hope to begin meetings sometime shortly after October. Once the club begins, it is expected to meet in the gym every Wednesday after school. 
Covid mishaps are nothing new and the hiccups haven't seemed to slow down the hype from students. The club creators Anya Peredrey, Brayden Pond, and Autumn Woltmann, hear significant buzz from the student body. Those interested can't wait for the club to officially start, especially senior Luke Glaser.
"It's the only club I've ever been really excited about. Especially since it's new, I think that's cool," Glaser said.
 The leaders are excited to begin as well.
"I look forward to spending time with my friends and meeting new people," Woltmann said
The club's advisor and student leaders are expecting and hoping for a large turnout. In fact, the club could be so large that they're considering doing two separate days for meetings in order to avoid overcrowding the three ping pong tables that the school already owns.
"I hope we can have a big club," Gonzales said. Peredrey is also hoping for a large crowd, "So many people know about it, and know we're the creators. I'm excited to see how many people are gonna come,"
Potentially adding to the club size is the invitation for teachers to play as well.
"I hope it's a club that both students and teachers can enjoy," Gonzales said.
Students were quick to call out some teachers they wanted to challenge.
"I'm calling out Mr. Mizener, I will one vs. one you at ping pong. I think that would be a good fight, but I believe in myself. Confidence is the key to everything," student Henry Fladung said. 
Luke Glaser had a few teachers in mind for himself to take on, saying he'd like to play Mr. Wright and Mr. Bitzer.
"It's always fun to play against your superiors," Glaser said.
Students are speculating what the atmosphere will be like. All in all, it seems a common conclusion is that it's going to be a fun, laid-back, lighthearted, hangout.
However, some people are certainly anticipating some fiery competition.
"The atmosphere is gonna be mostly good vibes, but I think it could get heated sometimes, a little bit competitive. There's a lot of passion in the game. I have been playing ping pong since I was a little kid. Probably since I was like 7 or 8 years old was the first time my dad got a ping pong table. Once I heard it was coming to Kings I really wanted to show everyone my passion for the game.  Hit some balls and win some games," Fladung said.
But leader Brayden Pond doesn't foresee the club getting too heated.
"I will say Ping pong is one of the only sports you can play that doesn't really irritate you at a certain point, you can have a lot of fun with it without getting enraged," Pond said.
All skill levels are accepted in the club, with  Glaser identifying himself as "beginner", Peredrey identifying herself as "intermediate", and Fladung identifying himself as "near pro".
A new table, paddles, and balls can run well over 300 dollars, a price not everyone can afford. Additionally, a table takes up a lot of space, so a ping pong table can be unrealistic in a smaller living space.
"Unfortunately Ping pong is an expensive sport, so I feel like this club could bring it to a lot of people. We need to bring ping pong to the kids" Fladung said.
Topend sports estimates that over 300 million people participate in Ping Pong each year.
"Come join us, try it out, see if you like it, maybe you'll find new friends," Peredrey said. "Maybe it'll be a new hobby."
View Comments (5)
About the Contributor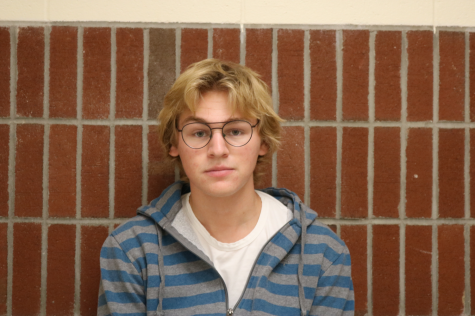 Ryan Flecker, Arts and Entertainment editor
Hello, I am Ryan Flecker, section editor of the Arts and Entertainment crew for The Knight Times. As a senior, my favorite aspect of being a section editor...