Perseverance: A baseball player followed his passion and never gave up
The gym was packed full of weights, loud music, and baseball players working on strengthening their bodies. All the chatter suddenly went silent, as there was a loud scream and blood began gushing onto the floor. Weights dropped, a fingernail detached, and Jake Murphy knew he would be off the field before the season even started.
"When I injured my finger, I was out for about a month. This happened right before tryouts, but since I worked hard during the off-season, I was allowed a spot on JV. At first, I didn't play a lot, but eventually, I made my way into a starting position by the end of the season," Murphy said.
Persevering through that injury was a big moment in boosting Murphy's confidence and resilience as a baseball player.
"It taught me toughness and how to overcome an injury that might set you back. I actually still have the scar on my finger," Murphy said.
Murphy has played baseball for most of his life, whether that was on his own terms or not.
"My dad forced me to play in second grade. I didn't take baseball seriously until two years ago before my junior year," Murphy said.
Focusing on his craft helped Murphy further his pursuit of greatness in baseball. Murphy attributes his hard work to external motivators and factors that helped him continue on his baseball career.
"My biggest motivators were my coaches because they saw talent in me before I became the player I am today. They told me that I had lots of potential and that it was up to me if I wanted to reach that potential," Murphy said.
Coach Kevin McClung was one of those coaches who helped Jake along his journey. McClung was one of the coaches who witnessed the fingernail incident in the weight room.
"He dropped the weights, which got his fingernail stuck. As he dropped them, it ripped out and blood flung everywhere. He broke his fingernail off for a few weeks of the season," McClung said.
Jake continued to play after that injury and was able to continue his growth as a pitcher. As Murphy's coach for his first two years of high school baseball, Coach McClung was a firsthand witness to how Murphy evolved into the player he is today.
"I always knew he was going to be a solid pitcher. He always had a decent arm and threw a lot of strikes. It was awesome to see the progress he made when he started to grow and get bigger and stronger. Just the progress that he's made over the last two years is impressive. I'd be lying if I said that it didn't surprise me a little bit of how much he grew and how good he is now," McClung said.
Over numerous seasons of baseball, Murphy's teammates got to see his hard work come to fruition. Colin Hunter witnessed Murphy's maturation during high school.
"Freshman and sophomore year, he was a pretty average outfielder to be honest. Last year he switched to PO (pitcher only). He didn't throw super hard or anything but he was accurate and had really good off-speed. However, this past offseason he has put in more work than anyone I know," Hunter said.
Hunter no only witnessed his growth as a baseball player, but also his growth as a person.
"Jake is a really good teammate and always has been. He'll do whatever it takes to win the game and is always supportive. One thing I respect about him is his work ethic. You can't find it in many people. He deserves every bit of his offer from Louisville," Hunter said.
Murphy received an offer from the University of Louisville to play for their  Division I baseball program.
"I felt like there was a huge weight lifted off my shoulders. I didn't take baseball seriously until two years ago before my junior year. Since then, I've spent countless hours improving my craft, and it was nice to realize that all that hard work paid off," Murphy said. 
Playing any Division l sport is a challenge but Murphy is the right guy for the job, equipped with his intrinsic value of hard work. Expect to see Murphy on the pitcher's mound, winding up a pitch, and letting it release like a rocket, then hearing "strike," followed by cheers from the crowd. 
Leave a Comment
About the Contributor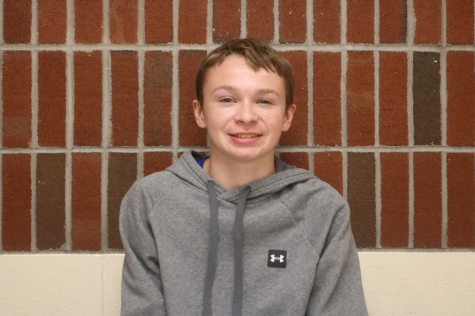 Brandon Gross, Sports Editor
Brandon Gross is a senior at Kings Highschool. He is a journalist for the sports section of the Knight Times. This is Brandon's first year at the Knight...