Friday Night Lights, where students and fans unite under the bright glow of the stadium, sharing their passion for high school football. Players walking down the hill behind the drumline. Running out of the tunnel, smoke in their face, side by side with their brothers since childhood. These nights are more than just games; they are the heartbeat of the community, where people unite and make memories to cherish forever. But who captures these moments?
You might think people would just take selfies and videos, but that can cause them to miss the game, potentially missing a crucial moment. This is where school photographers come in. They capture angles that not everyone can get, see things that others wish they could see, and provide players with pictures they can't take themselves. Perhaps you've seen these photographers at the Castle. Kings High School has a few students who share a common interest in capturing these moments on Friday nights, one in particular standing out.
Sammie Moss, a junior at Kings High School, has been involved in taking photos at Kings football games for the past two years. She has always had a passion for photography and videography. She began by taking photos for her dad during the boys' varsity basketball games at Kings. Since then, she's expanded her passion to cover more sports and continues to learn and improve her skills.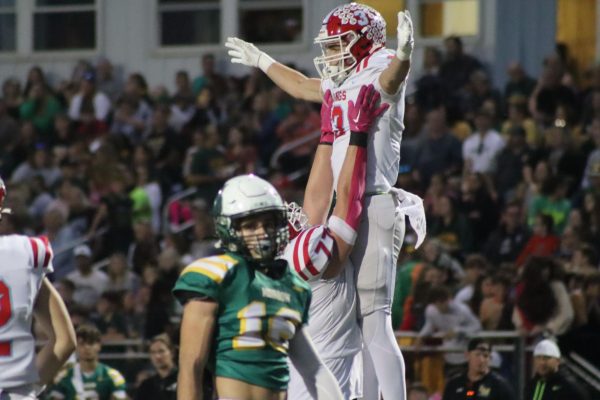 "I love taking pictures for a team that has such a strong presence in our school spirit, and I believe that football is one of the main components that gives the student body a sense of unity," Moss said. "Being able to be on the sidelines and to have an up-close view of the field makes the photos I take have a more personal feel, and I like to believe it gives some insight into the team's performance. If I can, I try and capture pictures that express emotion, whether that be excitement, disappointment, sadness, anger, happiness, etc. I try to show just how much this game means to these guys, and I enjoy that more than anything."
Moss loves to capture the team's highs after a touchdown, significant plays, turnovers, and winning games.
"Seeing the team so happy and the camaraderie between teammates and coaches is something special, and I feel lucky and privileged to have a front row seat for such special moments," Moss adds. 
In the midst of the roaring crowd and the adrenaline of the game, Moss stands as a testament to the power of capturing memories and emotions through the lens. In her photographs, the heartbeat of Kings High School football comes to life, reminding everyone that some moments are too precious to let slip away.
Moss plans to take her passion with her after high school, continuing to capture moments for others and the community, providing communities with angles they wish they could witness in person. Capturing the emotions of the players, key moments, and memories the players can relive forever.