Keeping faith in the pandemic
The whole world switched to videos: classrooms, daycares, business offices, and sporting events. Churches have also found creative ways to use video platforms during the stay at home orders to connect with their congregations. One local church, Rivers Crossing, has had an online platform to stream services before the crisis began.  
Rivers Crossing made adjustments to the services and programs with everyone on staff creatively collaborating to meet the needs of the community.  
"We have moved all of our ministries online. We were already streaming all of our services, but we took all of our ministries online as well," says lead pastor, Paul Taylor.
Taylor adjusted an area of his home to an online office, taking advantage of Instagram live to keep the members updated and engaged during this time.
"My work routine has stayed pretty much the same except working from home," Taylor says. 
While the structure of the main service has been easy to adjust to, some other ministries such as Celebrate Recovery, the teen programs Tribes and Collide, and the River Kids program had to adjust to streaming online. 
Julie Maguire, head of the Celebrate Recovery program has worked hard to transition to online.
"Celebrate Recovery has changed everything we do online. We have Friday meetings live online, Wednesday small groups on Zoom, and step studies online now. We use GroupMe as well and leader meetings on Zoom. We are always meeting," Maguire says. 
Student Pastor Peter Pizzuto has started using Instagram live for his sermons to engage the students. After the message, students go into small groups based on grade and gender using Zoom.
"Instagram has been helpful because the live feature is very helpful and people enjoy tuning in to a live stream. We have used social media to keep students feeling connected to the church during this time. We will stream a live message, tik tocs, talents shows, and anything else we can put out there to give the students a chance to stay connected and engaged," Pizzuto says.
With the student ministry team working hard to keep the online platform going, they have adjusted their approach as the quarantine has gone on. 
"After going live for seven weeks, we noticed that it is challenging to teach a message over a live stream with just a phone. A live stream isn't designed to be super interactive, so starting this week we are moving our live stream to Youtube because we can upload a pre-recorded service. Being able to pre-record allows us to be more creative and engaging," Pizzuto says. 
With all of the programs moving to digital, it is important to the staff to keep kids and students safe while engaging online. 
Andrea Goslee, director of River Kids wants kids to connect in a safe way.  "We send out a private link to parents on Facebook for kids to access videos of teaching and activities. The kids are able to meet in small groups over Zoom in a regulated group with two leaders.  We are focusing on teaching the kids about kindness and how to make an impact during this," Goslee says.
Despite the church body not meeting in person, the community has come together in amazing ways to support each other. 
"We have seen an incredible response to local needs for those who are hurting during this time through amazingly generous people. We've also seen incredible life change continue to happen and stories of people connecting to God through our online platform," Taylor says. 
Maguire has also seen the Celebrate Recovery community continue to encourage each other to reach even more people. 
"We are reaching people we normally wouldn't from other states and countries. The real difference is, people who were afraid to come into the building for fear of being judged are now getting into the community online because it's not as scary to come for the first time," Maguire says. 
Celebrate Recovery gives out coins to celebrate the process of members completing their step studies and they wanted to make the members feel celebrated in a creative way.
"We started announcing anniversaries on Facebook live during our large groups. It didn't feel very effective and we felt like it was important for folks to have the actual coin as a tangible reminder of victory, so we thought everything else has a drive-through, why not this," Maguire says.
Rivers Crossing has met the practical needs of the community as well through their ministry of Joshua's Place.
"We've seen an incredible response to needs in our community, with donations, support, investment in local businesses, and providing meals for five local school districts through Josuas's Place," Taylor says. 
The Rivers Crossing staff and volunteers are working hard to love the community and provide hope during these uncertain times. They are excited to meet again in the future and until then, they will continue to minister to others online. 
"We are a group of people who like to hug and be in community very often, and not being able to meet and worship together as a family has been very difficult for all of us. I miss everything about being together in person," Maguire says.  
Leave a Comment
About the Contributor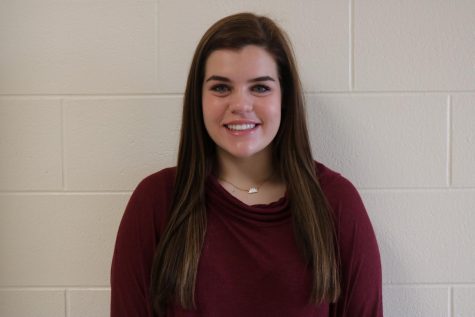 Ansley Taylor, Staff Writer
Hi my name is Ansley Taylor. I really love theatre, writing, reading, serving at church, singing, writing and yoga. I love the color yellow and emerald...