Athletes self motivate to work out during shut down
With gyms closed due to stay at home orders, athletes struggle with the lasting impact that could affect how they perform once competition comes back into action.
Some athletes won't be able to come back to highschool to try to make another playoff run, but it is vital to all Kings sports teams that returning athletes are working hard during quarantine in order to improve the team's success in the future years. 
Freshman standout athlete, Will Kocher, missed his first year of high school baseball but knows he will be an important part of both the football and baseball team in the coming years, and wants to make sure he works out enough to improve his play on the field to bring both of the teams some conference championships.
"I work out 4 days a week at Testerman Park with a couple of my friends from Evolution. I try to throw 3 days a week to keep my arm strength up. It's very hard not being able to lift real weights and gain muscle. My biggest struggle is keeping myself accountable. With all of this going on I tend to get lazy and start eating bad, playing a lot of video games, watching a lot of Netflix, and rewatching all of the Star Wars movies. I have been doing a lot better at making sure I'm being healthy recently, and I feel great. I can't wait to get back on the field with my friends."
While some high school athletes hope they can have a sports season next year, seniors who are going to play a sport in college have no time to rest. College sports are a whole other level of intensity and it is tough to go straight into a sport without working extra hard in the offseason. To not be able to go to a gym with weights can be a setback, but Matthew Hock is doing his best to be able to go into college ready to take on anything.
"I have a little weight set in my house that allows me to have some weight exercises which have been really nice. I try to bike a few times a week to get some cardio in which has been fun to get an old hobby back again. The hardest part about this is lasting a long time without wanting to give up. Usually you have your teammates in the weight room encouraging you and it's a fun time, but you have to have something else drive you while you are alone and it's very tough and it's something I am for sure working on. I have been able to look up workouts on professional athletes social media though, which has been a big help," Hock says.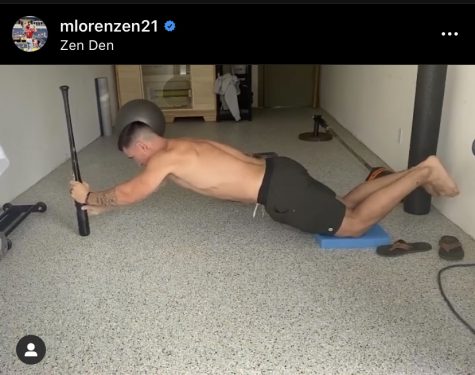 One athlete that has been posting a lot of workout videos is Cincinnati Reds pitcher and outfielder, Michael Lorenzen. Lorenzen's claim to fame around the MLB was when the Reds decided to bring out their sleeveless jerseys last year. Fans could see how huge his arms were, so it was apparent he knew what he was doing in the weight room. 
Lorenzen has been posting workout videos regularly on the MLB instagram page; he calls his workout room the "Zen Den." He shows his viewers how they can get classic workouts with just household items that can be very effective. Right now, he has a challenge on instagram that is trending called the #batwalkchallenge. In this challenge, he puts a baseball bat on the ground standing straight up,  moves into a plank type position, and uses only his hands as he moves up and down the bat. It's an insane challenge that works on core and arm strength.
Kings coaches should be happy about the work these athletes are putting in, and Knight Nation should be excited for what is in store for athletics next year.
"Judging by the physical growth of some of the players when we are in our virtual meetings, most of them are working out pretty hard and have gotten stronger in this time.  In the end, when we return to football in the fall, if they have not put in the work while at home, it will show.  They will be behind and will have a hard time working themselves back into shape before the season gets here," said Alex Garvin, head football coach.
Leave a Comment
Donate to The Knight Times
Want to show your appreciation?
Consider donating to The Knight Times!
Your proceeds will go directly towards our newsroom so we can continue bringing you timely, truthful, and professional journalism.
About the Contributor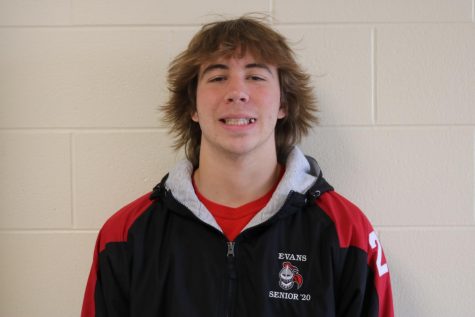 Austin Evans, Sports Editor
My name is Austin Evans.  I play baseball and football for Kings. My favorite thing to do is probably hangout with my friends or cheer on the basketball...