Ten music releases to help you get through quarantine
Thanks to a slew of nationwide stay-at-home orders, Americans find themselves out of work with more time on their hands than ever before. Music has helped to alleviate the psychological effects of this quarantine, and many artists have even chosen to release music at a time when millions are home to listen to it.
Bored music lovers from all genres can find something to listen to in these 10 releases to get through quarantine.
Drake: 
On Thursday, April 30, Drake previewed several new songs during a virtual concert on Instagram Live. One of them entitled "Not Around" had been leaked earlier in March, but Drake maintained that a "proper version" would be released soon.
Alongside him during the virtual concert were several guests, including Playboi Carti and Fivio Foreign, along with his sound engineer OVO Mark.
Though his latest single "Toosie Slide" was forced into delay during due to the pandemic, it appears that Drake will have plenty of new music to release once this quarantine is over. 
The Rolling Stones: 
Rock music sat in awe as the iconic Rolling Stones released their first original song in eight years, entitled "Living In A Ghost Town." Though Mick Jagger claims this single was actually written years earlier, the lyrics to this song resonate now more than ever ("Life was so beautiful, then we all got locked down"). It embodies the same fun, funky blues-rock that originally took the world by storm during the Stone's hey-day, and is sure to be a hit with both new and old fans. 
Twenty One Pilots: 
If you're looking for an emotionally reflective, yet musically upbeat pop-rock song, look no further than "Level of Concern" by Twenty One Pilots. This single is honestly one of the strongest and most lyrically-topical tracks to be released during quarantine, even having it's music video filmed at home and with heed to social distancing guidelines.
I'm not necessarily a Twenty One Pilots fan, (not knocking them either- just not my taste) but I would have to choose "Level of Concern" as one of the best songs to be released during the Coronavirus pandemic. The track itself is well balanced musically and lyrically, managing to be topical without trying to make a redundant world statement or bowing down to the government's choice of action. Overall, this single is one of the best I've seen so far, and I would definitely recommend it.
Luke Combs: 
In his new single "Six Feet Apart," country icon Luke Combs caters to the heartstrings of quarantined Americans. While the star sings about the things that are missed during quarantine, he also provides a glimpse of lyrical hope. "But there'll be crowds and there'll be shows," Combs reassures cabin-feverish fans, possibly even a subtle nod towards an upcoming tour once the pandemic is over.
It's a beautiful song both musically and lyrically, and hopefully will bring some peace to the hearts of country fans everywhere
Nine Inch Nails: 
In a surprise move that shocked the rock industry, Nine Inch Nails released two new albums during quarantine: "Ghosts V: Together" and "Ghosts VI: Locusts." 
In a lengthy note released with the albums, Trent Reznor describes the prevalence of this new music (particularly Ghosts VI: Locusts) to the difficult times that the world is enduring right now. Both albums are completely instrumental, and contain a more haunting sentiment than previous NIN releases. Perhaps the absence of vocals has left more room for the instruments to talk. 
This is probably my favorite Quarantine release. It's creepy, topical, and easy to drift away to. Even if Nine Inch Nails and alternative rock isn't your usual taste, these two albums provide a grand psychedelic experience to keep one sane and occupied during these troubled times. 
Dat Boi T: 
Appropriately entitled "Quarantine," Dat Boi T's new EP is surfing on the COVID tsunami that has overtaken the world. With tracks such as "Quarantine Flow" and "New Era," Dat Boi T makes no secret of his inspirations for this EP. While the music itself could be described as "brand name mumble rap" and features lyrics that manage to be both cringey and unoriginal, the EP is nonetheless a helpful distraction for those seeking timely tunes while they are cooped up at home. 
Michael Buble, Barenaked Ladies and Sofia Reyes:
This fascinating collaboration has teamed up for a sampled-heavy tune designed to give a simple message to Americans: "Gotta Be Patient" (literally, that's the name of the single). It's not the most original or articulate song to come out of quarantine, but it maintains a catchy guitar-pop quality that will likely gain traction on the radio waves of quarantined Americans. Hopefully, this collaborative single will get this threesome's fans into a better mental state. 
Puscifer: 
As if "Fear Inoculum" wasn't a large enough accomplishment for the past year, Tool's Maynard James Keenan has already set his sights on the next musical horizon. "Apocalyptical" is the first new Puscifer single in 5 years, and it's release could not be more perfectly timed, (especially given its name). The song itself is definitely quirky, (even for Puscifer), but it's definitely the sort of weirdness that alternative fans need to spice up quarantine. 
Avenue Beat: 
Keeping a bubbly transparency about their motivations for this album, the "intro" track of "the quarantine covers" album shows Avenue Beat giving this humble message to the listener: "So hopefully this will entertain you for like…fifteen minutes." With covers of songs by Bill Withers, Grover Washington Jr., Lori McKenna, and John Mayer, this covers album provides simple, yet soulful renditions that span across country, indie, and pop. It isn't the most remarkable covers album ever made, but even Avenue Beat admits that it wasn't meant to be. It is nonetheless a pleasant compilation that is perfect if you need something to drift away to for "like fifteen minutes." 
Matthew West: 
If you're looking for something a little more religious, Christian music star Matthew West has released a new single entitled "Quarantine Life." The music video, filmed under social distancing guidelines, features West and his family dancing while wearing masks at their home. The lyrics to this single are meant to be both humorous ("Can't lose weight, but I'm losing my mind") and hopeful ("It's lonely inside, but we're gonna survive.") Overall, it's a good release if you're religious and looking for something mildly funny and uplifting. 
Leave a Comment
Donate to The Knight Times
Want to show your appreciation?
Consider donating to The Knight Times!
Your proceeds will go directly towards our newsroom so we can continue bringing you timely, truthful, and professional journalism.
About the Contributor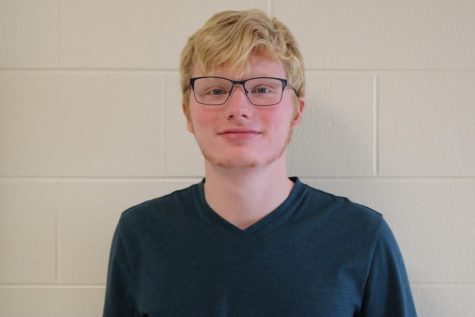 Ethan Greene, Staff Writer
My name is Ethan Greene. Some of my hobbies include playing guitar, drumming, writing, etc. My favorite color is literally my last name.  I was center...