New opportunity opens up for the competitive cheer team to go to nationals
After 20 years, the competition cheer team got invited to go to nationals together. Competing against other teams eager to have a fun experience in February. 
Teammates Claudia Witter and Taylor Schall are excited to have the opportunity to go to nationals. The memories they'll make when they step out onto the mat will create a legacy for Kings.
"I am very excited that our competition team is going to nationals for the first time in 20 years. To be a part of the team that might just make history in our school is awesome," Witter said. 
For the first time these cheerleaders will see what competing at nationals looks like as a high school cheer team. They are competing, not just for the first place prize but mainly for the experience. 
"I am looking forward to the whole competitive experience. The competitive world of cheer is called 'competition' for a reason. The atmospheres of the previous competitions were already extremely thrilling but on the national level in front of a larger crowd, there will definitely be a difference," Witter said.
The nature of nationals makes it more difficult than any other regional competition the cheerleaders have participated in thus far. The teammates' unique talents help to unify and grow the strength of the team. Taylor Schall, junior, grew up dedicating her life to dance, bringing her experience with her to the team.
"I have been performing almost all my life and I want to be a part of elevating the Kings cheer program as much as I can," Schall said. 
Getting invited to nationals motivated the team. The team challenges themselves to perform at a high standard in each competition, and the outcomes mean more than just a trophy.
"Last year when we tried our first competition team, I would have never thought that we could go to nationals to compete with other extremely good teams. I am glad I have the opportunity to experience the trip there as well as it might make the team closer together," Witter said. 
The cheer team did not make it to nationals based only on talent, the entire team puts an immense amount of effort into preparation. Schall notices her teammates put in effort every day to improve for the competition season. 
"All the hard work we have put in as a team and as individuals feels like it's finally paying off. But we have a lot more work to do," Schall said. 
Every day at practice, the team prepares to be in front of a larger crowd and perform to the best of their abilities to inspire many young cheerleaders. 
"Winning awards and getting a bid to nationals is only the start that will hopefully help other sports or students respect the hard work we put in," Witter said. 
Leave a Comment
About the Contributor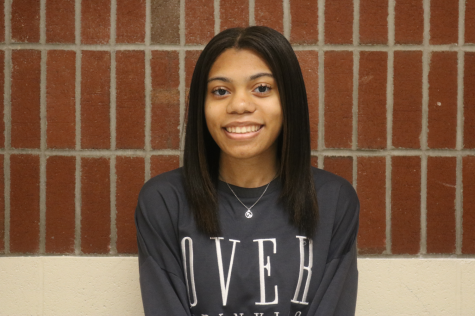 Senola Johnson, Features Editor
As a Senior writing sports stories for The Knight Times, Senola loves being creative and seeing what new things she can accomplish. This is her second...