Volleyball and Football set out to make sports history
Volleyball and Football had red hot starts to their seasons, they are now eyeing deep playoff runs heading into late October and early November.
Coming into this season the Knights have brought back many of their starters from their playoff run last year.  17 of the Knights starters from last year returned including there three year starter, (senior) Quarterback, Will Kocher. He leads the knights to a record of 7-1, second in the conference only to defending state champion Winton Woods. 
"We have alot coming back, a good senior class, lots of younger guys filling in roles," said Andy Endress, Varsity D line Coach.  
Coach Endrees agreed Winton Woods was the Knights " biggest threat" to them making a state playoff run. There are other teams in the conference such as Milford, Lebanon, and Anderson who all field good football teams this year and could challenge the knights once November hits. 
"Staying focused , especially going into some of these games where we are clearly better ," said Andy Endress.
In the first 4 games of the season the knights played they got a running clock against their opponents. After a few close conference games to West Clermont and Lebanon plus the loss to Winton Woods the knights would like to restart that early season hot  streak.
"Gotta stack days," said Andy Endress 
Going into the playoffs the team is focused on stacking days and getting better each day.  With a " creative" offense and an "attacking" defense the knights hope to respark their team heading into the postseason.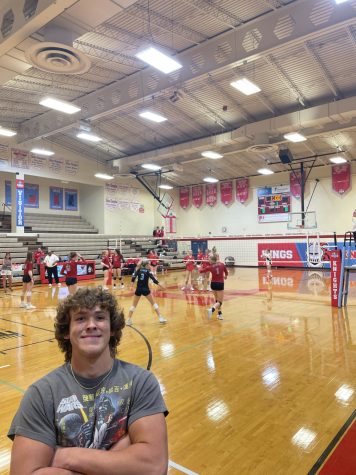 Our volleyball knights look poised to make another deep playoff run following last year's surprising success from such a young varsity squad. 
"I'm excited to see where they go and how far we go because I know they can go a long way", said Julia McCavitt (JV a head coach, varsity score keeper). 
Juniors, Kate Barrett, and Abby Yoder,  combined lead the ECC in Kills, Aces, and Assists. With a 19-2 record they are becoming a top team in the state. Milford surprised the knights by beating them early this season. They did recover with a victory over Milford at home later in the season.
"We beat them ( Milford) the second time so I'm confident in our ability to beat them,"  said Julia McCavitt.
She believes milfords crowded student section was a fracture in their early season loss.
"I feel they're more comfortable in the home gym," said Julia McCavitt
The volleyball playoffs are held in neutral gymnasiums which shouldn't give an advantage to any team. That's where us students can get involved making the other teams uneasy and uncomfortable playing against a good knights squad and a rowdy red sea. 
"I feel there is more comfort in the home gym," said Julia McCavitt. "When you're away you don't really have any sort of crowd except for parents."
Both volleyball and football are primed for deep playoff success coming off record setting regular seasons. 
"Go knights let's go win it all," said Andy Endress